Scandinavian kitchen design is a cozy, Nordic twist on modern interior design styles. While many of the design elements are the same, there's a greater emphasis on creating a space that is warm and inviting. There's also more of an emphasis on natural elements, a stark contrast from the bold, colorful laminates and appliances that characterized much of the 1950's modern style in America.
Scandinavian interior design in general tends to emulate the concept of "hygge". According to Wikipedia,
"Hygge (/ˈh(j)uːɡə/; Danish: [ˈhykə]; Norwegian: [ˈhŷɡːə]) is a word in Danish and Norwegian that describes a mood of coziness and "comfortable conviviality" with feelings of wellness and contentment."
Are you looking for a welcoming kitchen space for your family that also embraces the beauty of nature? Look no further!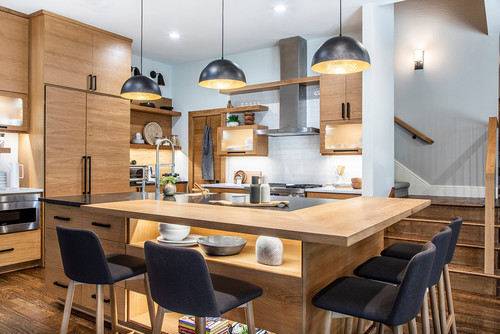 Scandinavian Kitchen Design Elements
Here are some of the design elements you can expect to find in a Scandinavian style kitchen:
minimal aesthetic, no excessive ornamentation or unnecessary decor
natural elements and materials such as wood, glass, and stone
rustic, natural textures
light, earthy color scheme with natural tan wood tones, white, black, and grey
modern cabinet door styles, such as Shaker or flat panel
mixture of lots of natural and artificial light
minimal to no window coverings to maximize light
warm, relaxing, and cozy atmosphere with comfy elements such as a fireplace, rugs, throws, and pillows
Inspirational Scandinavian Kitchen Designs
Neutral & Natural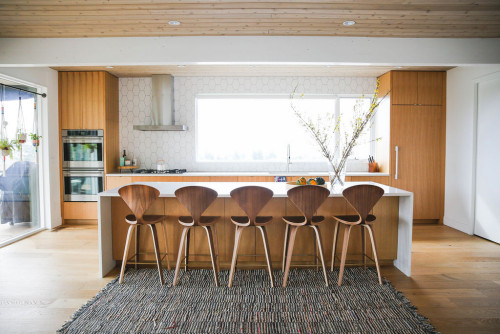 With its wide, uncovered windows, this Scandinavian-style kitchen exudes serenity. Scandinavian kitchens are renowned for their windows, which allow for ample natural daylight during their long, dark winters. To create your own Scandinavian kitchen, opt for large windows, but avoid using any window coverings.
This kitchen's color scheme is simple, revolving heavily around the neutral tan hues and natural wood grain of the cabinetry, stools, and hardwood floors. The bright white walls and countertop provide the perfect contrast, brightening up the room. Including a woven rug adds a subtle touch of coziness to the space.
Wood & White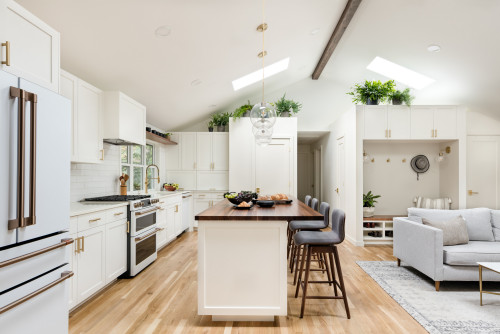 While natural light is a very prominent feature of Scandinavian kitchens, not every kitchen has access to sunlight. Kitchens without large sun-facing windows or doors can benefit greatly from skylights which help bring in some sunlight from above. If a skylight isn't in the cards, then it's important to have a variety of light sources to make up for it.
A mix of recessed lights, pendant lights, and under-cabinet lighting is a great way to ensure a bright, well-lit kitchen. The colors that you use should also be bright. The brilliance of this kitchen space is the extensive use of white. White reflects light, making spaces feel brighter and larger, so having white cabinetry, appliances, countertop, and backsplash really amplifies the light in the room.
Bright White Light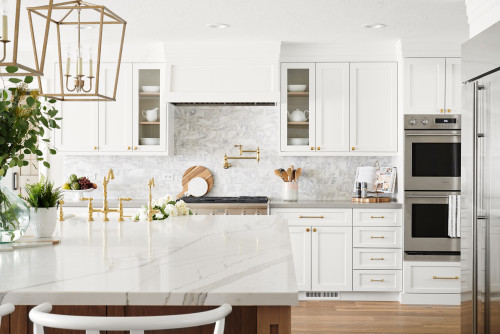 This two-tone Scandinavian kitchen is also mostly white, which effectively reflects natural light, creating a bright and breezy atmosphere. For a look that's more luxurious than simple, use natural stone such as marble for the countertop. If marble is out of the budget, then a marble-look engineered countertop can also help create the same look. Of course, incorporate some wood, either for the floor or in the cabinetry. This, along with some green plants, can help emphasize the respect for earthy, natural elements.
Warm & Cozy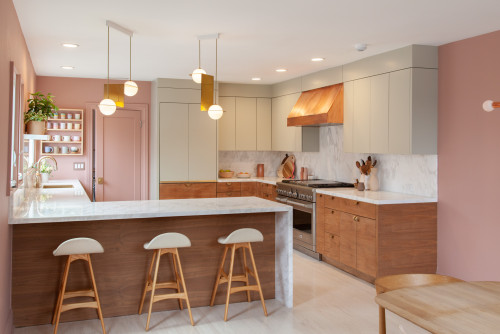 While simple neutral tones such as white, tan, and black are preferred, your Scandinavian kitchen doesn't have to exclude other colors that you may love. Add a personal touch to your kitchen by smartly incorporating color. Pink walls add warmth to this Scandinavian kitchen without disturbing the serene atmosphere. Soft, pale tones can help to create a cozy, inviting space. Bold, brash colors may do the opposite, so be careful when incorporating them.
Keep It Simple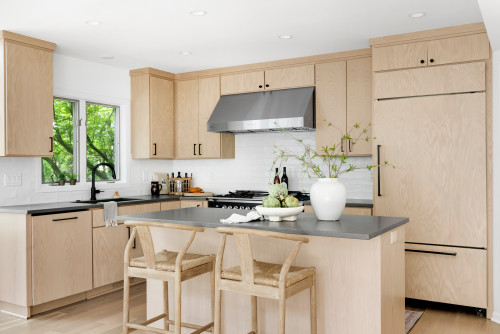 Simplicity is key when creating your Scandinavian kitchen. Opt for flat-paneled or Shaker-style cabinets instead of more traditional cabinetry with raised panels or adornments. Choose wood cabinets with visible, natural wood grain. Stick with lighter woods rather than those that are stained dark, as these will darken and shrink your space. When all the elements come together, you want a space that is light, bright, and welcoming. When in doubt, incorporating white in your walls, backsplash, cabinets, or countertop can help offset any darkness to create the atmosphere you're looking for.