Tuscan style kitchens are characterized by their rustic, earthy aesthetic and use of natural materials. If you're a fan of charming, Old World spaces with elaborate and classic design elements, then a Tuscan style kitchen is exactly what you're looking for.
Located in the Northwestern region of Italy, Tuscany is famed for its mountainous countryside and rolling green hills. Its rich history and culture include a distinct architectural design that exudes both stability and warmth. To design a Tuscan style kitchen, there are several key elements to consider.
Design Elements of a Tuscan Style Kitchen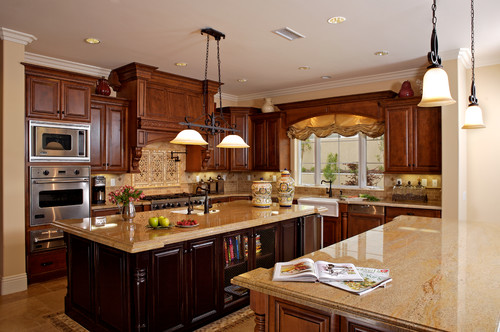 Warm & Welcoming Hues
Choose warm and natural colors for your walls and cabinetry. Creams, tans, and warm wood tones are the colors of choice for Tuscan style kitchens. Earth tones such as terracotta, olive green, and golden yellow are also popular choices in Tuscan style kitchens. Pale blues and greens in hues reminiscent of the sea can also be used. If mixing and matching and using these colors in combination, make sure that they blend well together in order to create a cohesive and inviting space.
Natural Materials
For an authentic Tuscan-inspired kitchen, incorporate natural materials into your design. Tuscan style kitchens often feature terracotta, slate, or travertine stone floors. Ceramic tile floors are also popular. Choose marble or granite as your countertop material.
Exposed brick or stone walls can also be used to add texture and a sense of history to the space. You may also want to include dark wooden furniture or exposed wooden beams with a worn, rustic look. Pay attention to the details when choosing your materials – the more natural, the better.
Sturdy Wrought Iron
Another important aspect of Tuscan style kitchen design is the use of wrought iron. Wrought iron light fixtures, cabinet hardware, and even pot racks can add a subtle, yet elegant touch to the space.
Classic Wood Cabinetry & Accessories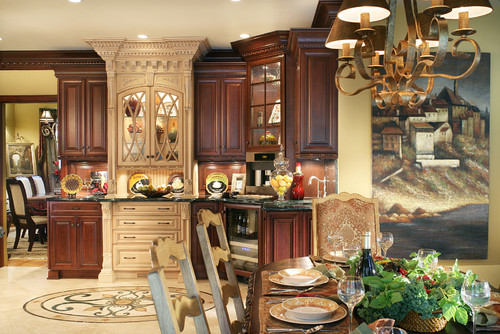 When it comes to cabinetry, choose pieces with a warm yet rustic feel. Steer clear of bright white Shaker cabinets and choose something in a natural wood tone of your choice. Distressed wood or painted cabinets in natural colors can add a sense of age and character to the space.
The above two-tone Tuscan kitchen combines dark wood and glazed cream cabinetry to create a truly tantalizing aesthetic. Raised center panels and ornate detailing on the cabinets give this kitchen a classic Old World charm. Elaborate crown moldings, corbels, and other accessories are the icing on the cake.
Add Natural & Artistic Details
Tuscany's famous natural landscape has a major influence on how home spaces are designed. For an authentic Tuscan aesthetic, add some greenery to your Tuscan style kitchen. Potted herbs and flowers can add a fresh and natural touch to the space, and can also be used for cooking.
Tuscan-inspired art is also a great way to decorate your kitchen space. Paintings depicting the iconic Tuscan landscape, the homely countryside, or sprawling vineyards can tie the entire design together. A tile or mosaic backsplash depicting one of these scenes would also be an appropriate and eye-catching addition.
By incorporating these key elements, you can design a Tuscan style kitchen that is both beautiful and functional. Remember to choose colors, materials and decor that are timeless, and will not go out of style with the next home trend.