A mudroom is a functional and practical space in a home that serves as a transition area between the outdoors and the main living areas. It is typically used for storing shoes, coats, and other outdoor gear, as well as for cleaning up before entering the rest of the house.
Often, it is located near the home's laundry room or garage. When designing a mudroom, there are a few key elements to consider to ensure that the space is both functional and visually appealing.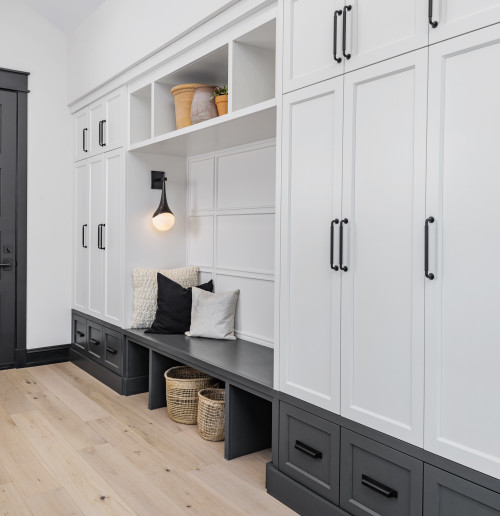 Create your own two-toned mudroom using our Ice White Shaker and
Greystone Shaker kitchen cabinets!
Storage Is Key
When it comes to designing your mudroom, storage is of the utmost importance. One of the conveniences of a mudroom is being able to grab what you need while on your way out the door.
To make things as convenient as possible, you'll need ample space for storing shoes, coats, bags, and other outdoor gear. Properly organizing these things will make for quick, seamless exits on those hectic mornings.
Consider installing a combination of built-in shelves, hooks, and cubbies to keep items organized and easily accessible.
A Place To Sit
A bench or seating area is another necessary addition to a mudroom. It provides a place for people to sit and take off their shoes, which is especially important in homes with children and elderly people. Some seating areas can also double as additional storage for shoes and other items.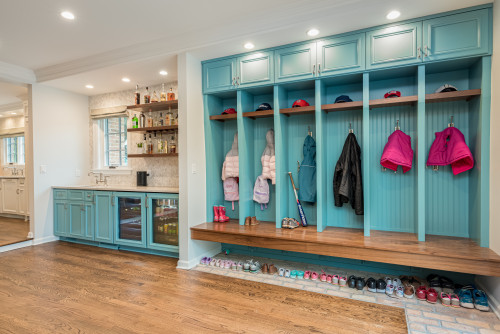 Ample Lighting
Proper lighting is essential in a mudroom. When coming in from outside, there are a plethora of things coming inside with us, from dirt and debris to bugs and fecal matter. Make sure that there is enough light to see what you are doing.
Sunlight from a nearby window may not be bright enough, and corner lamps may not illuminate enough of the room. Bright, recessed lighting located directly overhead is great, but a combination of lighting sources may be even better.
Appropriate Mudroom Flooring
Don't neglect your mudroom flooring. Making the right flooring choice for this space is quite important. It should be durable and easy to clean because it's sure to encounter lots of wear and tear. Consider using tile or hardwood flooring that can withstand heavy foot traffic and is easy to wipe clean.
Waterproofing should also be taken into consideration for those wet, rainy, and snowy days. Adding a rug with non-slip properties can also offer additional safety for homes with children, pets, and the elderly.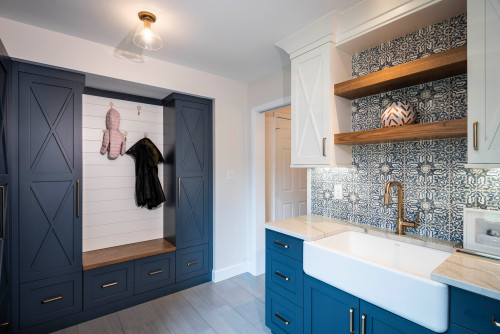 Places To Hang Things
Hooks and hangers are a great way to keep items off the floor and easily accessible. Consider installing hooks for coats and bags, and hangers for hats and scarves.
Homely & Welcoming Decor
While a mudroom is a functional space, it doesn't have to be dull. Add a touch of personality to the room with an eye-catching piece of art, a large plant, or a colorful accent rug.
When designing a mudroom, it's important to consider the function of the space and provide ample storage and organization options, include seating, ensure proper lighting, use durable and easy-to-clean flooring, add hooks and hangers, and include a touch of decor to make the space both functional and visually appealing.