Just in time for 2023, color authority PANTONE has chosen a brand new shade for their Color of the Year: Viva Magenta. This bold, exciting hue is a stark contrast to the more subdued tones of recent years, and can be tricky to work with without proper planning and attention to detail. Here's what you need to know about the color that will be taking next year by storm.
Viva Magenta According To PANTONE
Inspired by the vibrant dye made from the cochineal, Viva Magenta emulates the strongest shade of red found in nature. This color choice represents fearlessness and optimism for a bolder, brighter future. According to PANTONE,
"This year's Color of the Year is powerful and empowering. It is a new animated red that revels in pure joy, encouraging experimentation and self-expression without restraint, an electrifying, and a boundaryless shade that is manifesting as a stand-out statement. PANTONE 18-1750 Viva Magenta welcomes anyone and everyone with the same verve for life and rebellious spirit. It is a color that is audacious, full of wit and inclusive of all."
Inspirations For Using Viva Magenta In Your Home
Red is not the most commonly used hue in interior design, especially in the kitchen. Too much red can create an atmosphere that feels brash, overpowering, and unwelcoming. When used properly however, it can create a space that exudes confidence and bravery. If you choose to incorporate Viva Magenta into your home, be sure to use it wisely. Here are some great ideas for using next year's star hue.
Bold Magenta Backsplash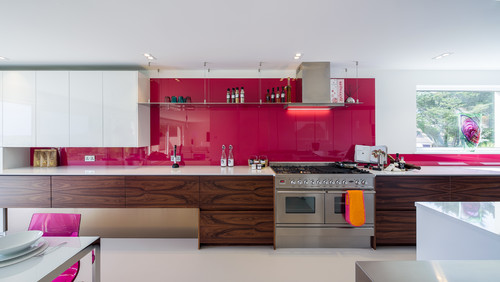 Viva Magenta can be the perfect complement to a modern kitchen design – if you do it right. In this kitchen, the simplicity of the flat-paneled cabinets leaves room for the bold backsplash to shine. While it does take up quite a bit of space, the bright white cabinets, countertops and walls provide enough of a contrast to prevent it from overpowering the room. It also helps that the room itself is large, spacious, and full of bright, natural light.
Vibrant Magenta Accent Wall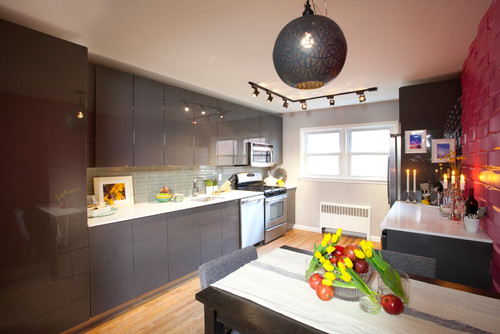 A vibrant accent wall is a timeless way to use strong colors such as Viva Magenta in your home design. Keeping the color to one singular wall constrains it; using it on any more would certainly be hard on the eyes. Use neutral tones throughout the rest of the room to balance out the boldness of the hue. Minimal textures and flat paneled cabinetry prevents the room from looking too busy.
Eclectic Magenta Bathroom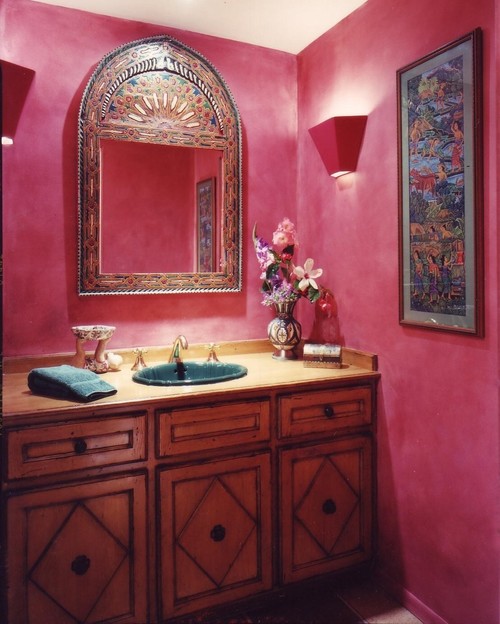 When it comes to the bathroom, there's more room for creativity. Multiple magenta walls can work in such a space as long as it's properly balanced. Always use a white ceiling to prevent the room from looking and feeling small. Ensure that the room is properly lit to keep the room from being too dark. If you're decorating your powder room, feel free to break the rules and create a mood that's warm, exciting, and eclectic.
Barely There Bursts Of Magenta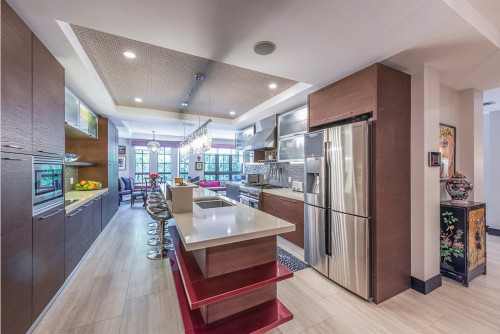 Viva Magenta is undoubtedly a striking color, which understandably can be a little too bold for most kitchen spaces. But when it comes to bold colors, a little bit can go a long way. This neutral kitchen is attractive with its medium brown wood cabinets and tan countertop, but a bit of visual contrast can elevate the entire look. Using magenta shelves in the island adds a much-needed burst of personality to this otherwise simple space – without clashing or being too intense.
Artistic Elements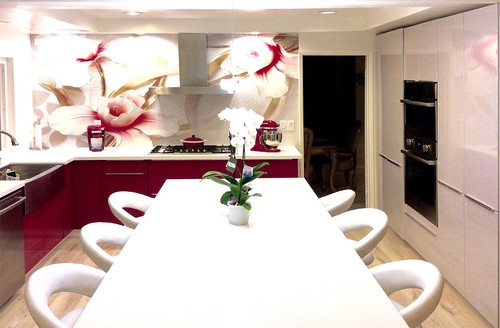 One beautiful and almost fool-proof way to incorporate challenging colors into pretty much space is with art. If it matches the personality of your home, consider choosing a visually appealing wallpaper that features magenta shades. Just remember that the key is to have restraint.
This kitchen keeps it simple with two main colors and very few textures or adornments. Too many colors and textures can make your kitchen space look busy, which will detract from the welcoming, homely feeling you're probably trying to achieve. Pairing with neutral tones or shades of white for contrast will create a balanced, attractive-looking ambience.
Viva Magenta may seem intimidating at first, but with enough care and attention to detail, you can successfully use 2023's Color of the Year in your home.