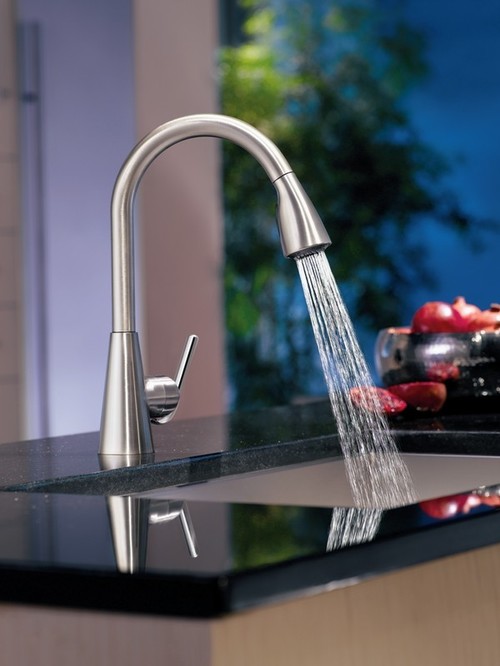 With all the fancy new kitchen gadgets on the market these days, it's becoming a bit more difficult to shop for the faucet that's right for you. Nowadays, faucets offer more than just an option for hot and cold water. You can find faucets with multiple spray settings, smart sensors that respond to your touch, and a variety of minimalistic contemporary designs. So how does one go about finding the best faucet? Here are a few things that you should consider:
Price. Save yourself a lot of hassle by budgeting exactly how much you'd like to spend on your faucet before you begin shopping. This helps to narrow down your options to keep you from getting too overwhelmed with your choices, and it also keeps you from overspending. If you know you're not willing to spend more than a certain amount on your faucet, you're probably less likely to be tempted by extra fancy features that you don't really need.
Sink. If you've already chosen your sink, then your options are more than likely going to be decided based on the number of holes that your sink has available. Home Depot offers these handy tips to help figure out which faucet will match your sink holes:
– If you have a sink with 1 hole, you can choose between either a single handle faucet or a single handle faucet with a deckplate.
– If you have a sink with 2 holes, you can choose between either a single handle with an accessory (like a sprayer or soap dispenser) or a double-handle faucet.
– If you have a sink with 3 holes,  your options increase. You can choose between a single handle with a deckplate, a faucet with two accessories (like a detached handle, soap dispenser, or sprayer), or a double-handle faucet with one accessory.
– If you have a sink with 4 holes, you can choose between a single handle with a deckplate, a single handle with three accessories, or a double handle with one accessory.
If you have numerous holes available, the number of handles and accessories you choose are purely a matter of personal preference. Choose what best suits your lifestyle and price range.
Construction. We all know what a headache a leaky faucet can be. What many of us don't know is that what the faucet is made of directly affects how well it will operate. We don't often think about what's going on inside our faucets, but if you're purchasing a new one, you'll benefit from paying attention to this detail. Choose a faucet that has a high quality ceramic cartridge that has been tested and certified by manufacturers. These faucets should operate leak-free for a substantial amount of time.
Design. Choose the style and finish that best compliments your kitchen. A vintage faucet with a bronze, brass or other unique finish is a great adornment for classic, traditional kitchens. Those with contemporary kitchens have a number of interesting modern kitchen faucets to choose from, with polished chrome, stainless steel, and other great finishes. Regardless of how your kitchen is styled, you're bound to find a faucet that will be a great compliment to the overall design. Keep in mind that certain finishes cost more than others, so be sure to consider your desired style when creating your budget.
Extras. If you've got extra cash and you're looking to splurge on some higher-end faucets, there are lots of cool and useful features available. Many companies offer faucets with sensor technology that allows you to turn on your faucet with a single touch. This is a great option for those who are concerned with minimizing the spread of bacteria during cooking. Shop around to see the variety of features offered by different brands and choose one that will allow you to work more efficiently in the kitchen.
The Environment. Do your part in minimizing water waste by choosing a water efficient faucet. Look for companies that meet EPA WaterSense standards for water efficiency. Faucets that meet the EPA's criteria use approximately 20% less water, allowing you to conserve effortlessly.
Take the time to plan, create your budget, and do your research before heading out to purchase your kitchen faucet. I guarantee you'll have a much easier time choosing a faucet if you know exactly what you're looking for. You'll spend less time searching around aimlessly, leaving you with time to pull together the remaining odds & ends of your kitchen remodel.
Summary
Article Name
How to Choose Your Kitchen Faucet
Description
With all the fancy new kitchen gadgets on the market these days, it's becoming a bit more difficult to shop for the faucet that's right for you. Nowadays, faucets offer more than just an option for hot and cold water. You can find faucets with multiple spray settings, smart sensors that respond to your touch, and a variety of minimalistic contemporary designs. So how does one go about finding the best faucet? Here are a few things that you should consider:
Author