No matter the year, the prominent kitchen remodeling trends always reflect the desires, fears, and limitations of the culture at large. Houzz has released their annual U.S. Kitchen Trends Study, and for 2023, things are no different.
From environmental and financial concerns to the desire to adapt to ever-changing technologies, homeowners (and their kitchens) continue to evolve with the times. Here are the kitchen remodeling trends that are influencing homeowners' kitchen remodeling choices this year.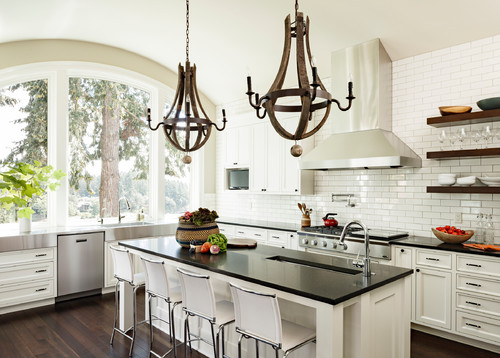 White kitchens reign supreme. Jump start your kitchen remodel with our
wildly popular Signature Pearl kitchen cabinets.
2023 Kitchen Remodeling Trends
Simple, Neutral Aesthetics
The ornate raised panel cabinets and elaborate knobs of traditional kitchen styles are long gone. Homeowners are overwhelmingly opting for the simplicity an age-old American favorite: white Shaker-style cabinets. Increasingly though, more people are choosing European-style flat-paneled cabinetry. And while white continues reign supreme, blue cabinets are making their mark as the go-to choice for contrast in two-tone kitchens.
Transitional-style kitchens continue to dominate as America's #1 style choice. Unsurprisingly, modern and contemporary styles come in second and third, respectively. As for hardware, over 90% of Americans choose to use handles on their cabinets, with 72% opting for sleek, durable bar pulls.
As far as countertops go, simple white countertops have been gaining in popularity while multicolored countertops are falling out of favor. Black countertops are also becoming more popular, especially as a contrasting color for the island.
Technology As A Mainstay
Incorporating tech into the kitchen space has become more and more popular over the years. Across the board, homeowners are adding electronic upgrades such as docking stations, stereo systems, and wireless speakers. Convenience tech such as touch-free faucets and WiFi-connected appliances are also common features that homeowners are choosing to add when they upgrade their kitchens.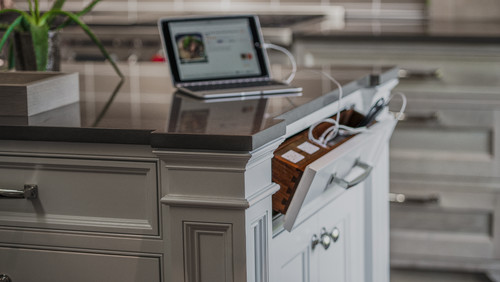 The sustained interest in kitchen tech such as stereo systems and speakers reflect the fact that kitchens are being used for much more than cooking these days. Aside from cooking and baking, 50% of homeowners use their island primarily for entertaining while 44% use their island for socializing. With technology being an integral part of our daily lives, the kitchen needs to be sufficiently equipped to support all of our activities.
Energy & Cost Effectiveness
As a sign of the times, a whopping 92% of homeowners choose to purchase power-saving appliances, energy-efficient windows, and water-saving fixtures. All of these reflect two important concerns for homeowners today: cost-effectiveness and environmental sustainability.
Homeowners love the idea that the appliances and fixtures in their kitchen will save them money in the long run. The fact that these fixtures also help to conserve energy is icing on the cake. It's a win-win.
Prices Are Going Up
The trend towards cost-saving appliances and fixtures is not at all misplaced. Remodeling can be quite expensive, so every penny counts, especially in the face of inflation. The median cost of both major and minor projects has increased by about $4,000, so no matter how you choose to remodel, you're bound to end up spending more.
Major remodels, which include replacing all of the cabinets and appliances are replaced, cost up to 3x more than minor remodels; $45,000 compared to just $14,000.
Other Current Trends
When it comes to the backsplash, homeowners prefer full coverage, with 61% of homeowners choosing the extend the backsplash up to the cabinets or range hood instead of just partway. A little over 10% choose to extend the backsplash up to the ceiling. The overwhelming majority of homeowners choose tiles instead of slabs, with 67% opting for ceramic or porcelain as the material of choice.
Granite continues to trail behind engineered quartz as the choice countertop material, with almost twice as many homeowners opting for the quartz. However, there was a notable 6 point drop in quartz from 2022 to 2023, which may signal a coming change in trends in the coming years.
L-shaped kitchens are the most popular, with 40% of homeowners choosing to update their layout to this shape. This setup is most commonly paired with an island, and 55% of homeowners choose to either add an island or upgrade an existing one.
For more information on 2023 kitchen remodeling trends, check out the full report from Houzz here.