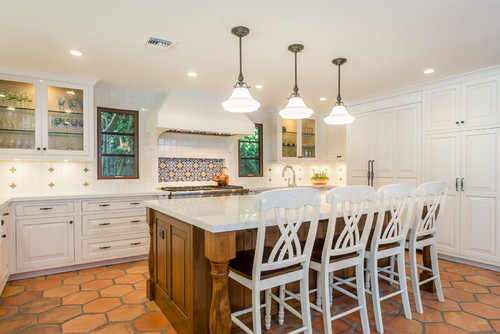 Terracotta kitchen floors are an enduring and attractive option for a wide variety of kitchen design styles. Its quintessential earthy red and pink hues have been favored for centuries for both indoor and outdoor applications, making it one of the most versatile tile options available. Terracotta tiles are undoubtedly attractive, but you may be wondering, "is it right for my kitchen"? Here's what you need to know about the pros and cons of this age-old flooring option.
Love the look? Our Signature Pearl kitchen cabinets are an excellent pairing with terracotta floors!
What is terracotta?
Used by artisans and sculptors around the world since ancient times, terracotta is one of the world's oldest materials. First, locally sourced red or brown clay is molded into the desired shape. Next, the clay is dried and fired in a kiln at high temperatures. The end product can then be used as-is, glazed with a sealant, and/or painted.
This simple process is still employed by artisans around the world, and handmade tiles are available for purchase. Keep in mind, however, that these tiles tend to be more expensive. Handmade tiles also tend to be more rugged in shape, making them a bit more difficult to install. Mass-market terracotta tiles are usually machine cut into uniform shapes for precise installation.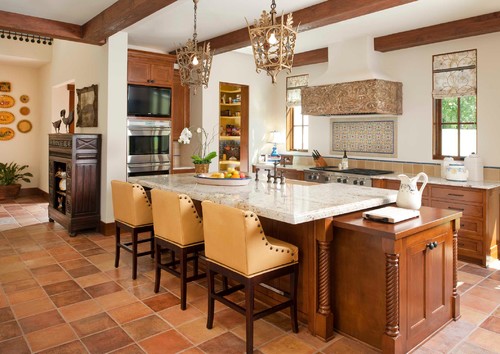 The Pros of Terracotta Kitchen Floors
Terracotta's selling point is its warm, rustic, earthy style. Because it's made from natural clay, there's a lot of variability in color, meaning no two terracotta tiles are exactly alike. Terracotta tiles can be found in shades of red, pink, yellow, and brown.
Terracotta's distinct look can fit a variety of kitchen styles, from classic Old World to more contemporary designs. The tiles are available in a number of different shapes, so you can easily find a tile that matches your kitchen's personality.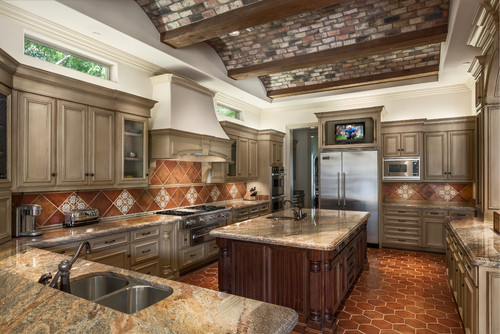 If you're environmentally conscious, terracotta tiles are the perfect eco-friendly option because they're made from natural materials. They're also cheaper than other natural flooring options such as marble, while still possessing similar strength and resilience.
Indeed, terracotta has been favored for centuries because of its durability. When it comes to flooring, it's always important to choose a material that will stand up to the wear and tear of everyday life. Terracotta is perfect for this task, as long as it's protected and maintained. When properly glazed and sealed, terracotta tiles are naturally resistant to stains, mold and bacteria.
The Cons of Terracotta Kitchen Floors
Glazing is important when it comes to your terracotta tiles. Terracotta is naturally porous, and without proper glazing, the tiles are vulnerable to water damage and staining. If you choose unglazed tiles, you'll have to be extra diligent about keeping the floor free of spills. When cleaning unglazed tiles, be sure not to leave the material wet.
Terracotta kitchen tiles are usually glazed, making them much more durable. You don't have to worry about water soaking into these tiles. However, glazed tiles can become slippery when wet. You may want to opt for a non-slip coating, especially if you have children, pets, or elderly family members.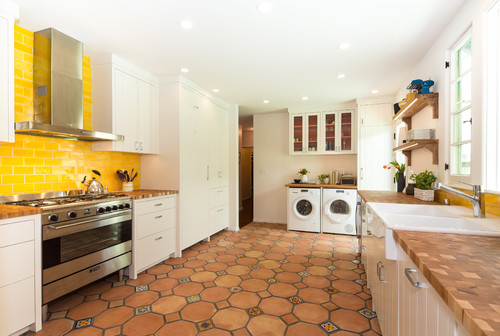 Even when glazed, maintaining your terracotta tiles is very important. If your tiles experience lots of wear and tear, they must be resealed regularly to maintain their water resistant properties. The good news is that professionally sealed tiles should last for many years before needing to be resealed.
When cleaning, be sure not to use harsh brushes on the surface as this may scratch away the glaze. Vacuum the surface regularly, and if mopping, do not leave water sitting on the tiles. Terracotta tiles require a bit more diligence and maintenance than other popular flooring types, but if you're willing to care for them, the end result is absolutely worth it.