Cottagecore kitchen design is making a huge resurgence – and we may have the pandemic to thank for that. For homeowners stuck indoors, the cozy, rustic homeliness of the cottagecore aesthetic was the perfect antidote to the feelings of discomfort, lack of certainty, and fear which characterized the days of the pandemic.
What's the difference between cottage and cottagecore?
While many of the design features of the cottage and cottagecore aesthetics are the same, cottagecore is a movement. Cottagecore isn't just a set of design rules to follow, it's an expression of one's own interpretation of the comforting, homely style. In an interview for Forbes, Francesca Grace of HGTV fame states,
"Cottagecore is a way of living based on a feeling of comfort, self-dependability, and a curation of one's most-loved pieces. There is a heavy English rural influence which I die for. When it comes to cottagecore there are no rights or wrongs in my book."
Cottagecore home design provides refuge from the stressful hustle and bustle of our current technology-driven lifestyles. The pandemic created a collective nostalgia for simpler, more comforting times, ironically sparking a new, popular social media trend. This is what puts the "core" in cottagecore. It's more than simply designing a space. It's part of a greater movement towards reclaiming the parts of ourselves that have been forgotten in our high-tech world.
The kitchen, which is most often connected to feelings of comfort and coziness, is the perfect place to add cottagecore design elements. Whether it's a full remodel or decorating the space you already have, it's fairly simple to create the cozy cottagecore kitchen of your dreams.
Key Features of The Cottagecore Kitchen
From a design standpoint, the key features of cottagecore kitchens overlaps completely with cottage kitchens. You can find elements of:
exposed wooden beams, hardwood floors, shiplap panels, beadboard, and other wood
open shelving to display dishware and antiques
curtains, dishtowels, or upholstery in plaid and other patterns
mix & match patterns and textures
farmhouse-style sink and antique fixtures
soft & subdued color scheme with pastels and/or earthy tones
To put the "core' in cottagecore, bring in elements that emphasize the cozy comforts that appeal the most to you, such as:
family heirlooms or your other favorite antiques
family photos
personal gifts or nick-nacks from places you've traveled
blankets, pillows, wooden rocking chairs
plants, flowers, seashells and other nature-inspired elements
4 Cottagecore Kitchen Design Inspirations
Minimalist Cottagecore Kitchen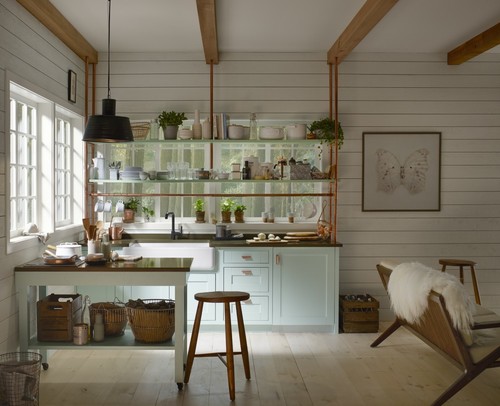 Cottagecore is not about over-the-top elegance. It's about embracing the rustic, simple side of life. In this homely cottagecore kitchen, open shelves take the place of closed cabinets, creating a breezier, more humble feel. Open shelves are a great way to showcase any antique dishware or decor, especially anything that has been passed down through your family. While you can definitely go shopping for weathered decorative pieces, they should be more than just a good-looking antique. Find something that's meaningful to you and your family.
Wood is always going to be the star material of any cottagecore space. Remember that wood was used throughout the centuries to build the very cottages that these kitchens emulate. Don't hide those wood beams, and keep your old hardwood floor if you're going for a truly authentic cottagecore look. The horizontal shiplap walls are also a classic, yet subtle display of wood material. As far as decor goes, repurposed wooden crates and wicker baskets can do double duty as both storage and decoration.
Keep the sleek contemporary-style metals to a minimum, and opt for copper or other rustic metal hardware and fixtures. Don't forget to soften up the place with some cozy elements such as throw pillows or blankets on a nearby bench. If you so choose, mix and match cute patterns to give the kitchen a more light-hearted feel. Choose art pieces that embrace themes of home and nature to really capture the theme.
Hardcore Cottagecore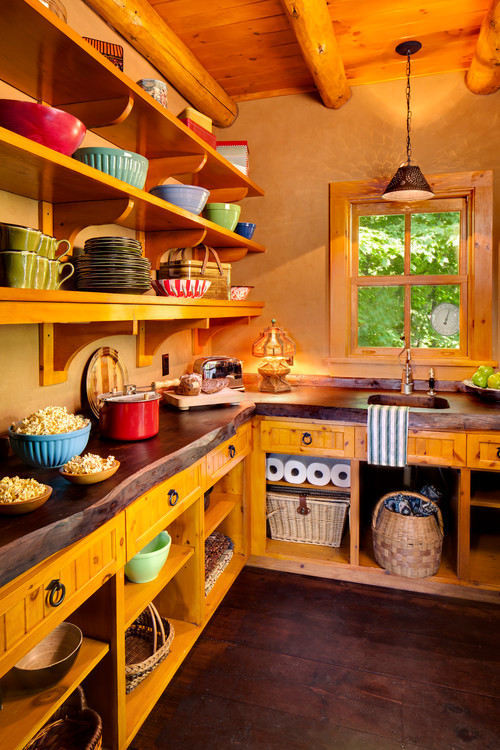 This is a true cottage kitchen, where wood is the foundation. From the circular beams to the warm cabinetry, to the rustic-edged countertop and the dark hardwood floor. Open shelves from top to bottom showcase rustic bowls and wicker baskets galore. Cups and bowls of various hues lend subdued, earthy pops of color to the space, just enough to keep it cozy without clashing.
From the materials to the color scheme, this kitchen fully embraces an earthy vibe, completely eschewing all things technological and modern. While most people would never embrace cottagecore this thoroughly, such a kitchen would indeed serve as the perfect cabin-in-the-woods getaway from the chaos of modern life.
Cool Coastal Cottagecore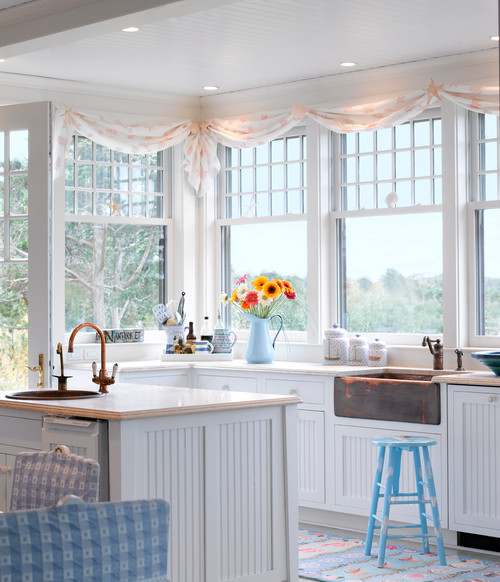 The cabin in the woods aesthetic is certainly not the only way to embrace cottagecore. Remember, the point of cottagecore is to create a space that feels cozy and comforting to you. For some people, there's nowhere cozier than being by the sea. Luckily, there's a lot of overlap between coastal and cottage design elements. Wide, open windows overlooking a fabulous nature scene are the perfect place to start. This immediately takes you out of your head (or your phone!) and back to a calmer, more peaceful state. Adorning these windows with curtains makes it even more homey.
As far as design elements are concerned, white kitchen cabinets are always a winner. Bonus points for beadboard paneling, or even shiplap walls for a comparable look. A large farmhouse sink is also a great choice, especially in an antique copper finish. Underneath, a floor mat is a great place to incorporate a fun, whimsical pattern. Plaid upholstery in calming blue hues reminiscent of the sea and sky put the perfect finishing touches on this coastal cottagecore take.
Your Cottagecore Retreat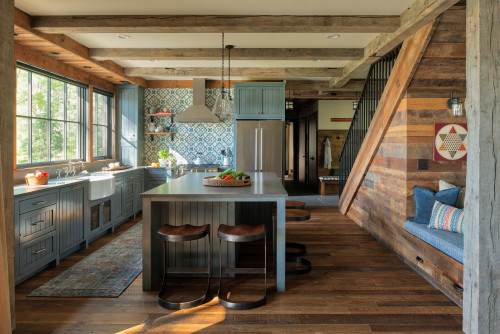 When most people plan retreats they look for somewhere that feels like a home away from home. But when you have an opportunity to design your own kitchen, why not bring the retreat home? Wood beams, planks, shiplap and beadboard are accessible ways to really emulate that rustic feel. Well-placed wallpaper with an interesting pattern can help break up the monotony.
Embrace nature as much as you can, including in the color scheme. Blue was the perfect complement to the white coastal kitchen, but it can also play well with wood's brown hues. It creates an atmosphere that's just as calm. Try playing with natural earth tones when decorating your personal cabin-inspired cottagecore kitchen. Woodsy greens and browns, deep earthy reds and oranges and pastel yellows.
Whatever you choose, the most important thing is to make your cottagecore kitchen your personal place of peace. From the colors to the materials to the decor, create a space that reconnects you and your loved ones to the things that truly matter the most.