Blue shaker kitchen cabinets are slowly gaining in popularity as homeowners are seeking to add more color to their kitchens. The classic stile-and-rail recessed design of shaker kitchen cabinets have long been a staple in American kitchens. This simple and enduring door style is most often found in neutral tones such as whites and greys, as these colors are easiest to design around.
However, white and grey kitchens can also be basic and, dare I say, boring. Americans are spending more time at home and in their kitchens and want a fun, yet relaxing atmosphere. The right color palette can achieve just that.
Soothing, light blue can liven up a kitchen space tremendously, without being brash or intimidating. It can also be styled in a variety of ways, from coastal to traditional to industrial. When it comes to creating an attractive, blue kitchen, the sky's the limit.
Curious about using blue cabinets in your kitchen but not sure where to start? Here are five different ways to style a kitchen around blue shaker kitchen cabinets:
5 Styling Ideas For Blue Shaker Kitchen Cabinets
Traditional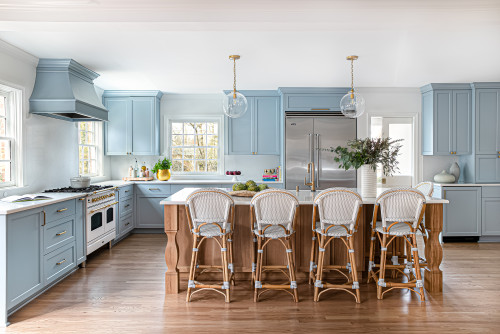 While shaker cabinets are most often used in contemporary designs, they can shine in traditional designs as well. Take notes from the kitchen design above. To achieve a more traditional look, dress up your blue shaker cabinets with accessories.
Crown your wall cabinets with elaborate moldings. Use corbels and appliques, and large decorative legs on your island. These small, decorative details make the difference between a simple, contemporary look, and a traditional one.
When it comes to materials, hardwood and stones such as granite and marble will really give your kitchen a classic look. If your budget is tight, then engineered countertops with a granite or marble look can also work. Gold or brass fixtures and hardware add the finishing touches.
Urban Farmhouse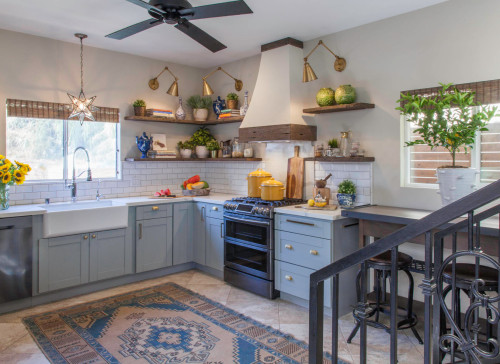 If traditional isn't your thing but you still yearn for a nostalgic, cozy kitchen, then try your hand at a farmhouse design style. While farmhouse kitchens traditionally boast white or wooden cabinetry, calming blue cabinets help to boost the style's characteristic comfy feeling.
Natural wood grain gives the rustic feel of a small farm, and is a gorgeous contrast to the paler blue. Use natural wood for open shelves or a nearby eating area such as in the above kitchen, or use it as a countertop or flooring.
Anchor your farmhouse kitchen with a classic, large, farmhouse sink, preferably in white. Use white elements in the space to help complement the sink and brighten up the space. The designer for the above kitchen craftily combines both white and off-white to create a balanced look; not too cool and not too warm.
Accessorize your space with homely decor such as a decorative rug, ceramic jars, and live plants. Feel free to add more pops of color, but don't go overboard. Metallic fixtures and hardware can add a bit of shine to an otherwise matte space. Stainless steel and chrome work just as well as bronze and gold. The casual farmhouse style allows for mixing and matching as you see fit.
Warm Transitional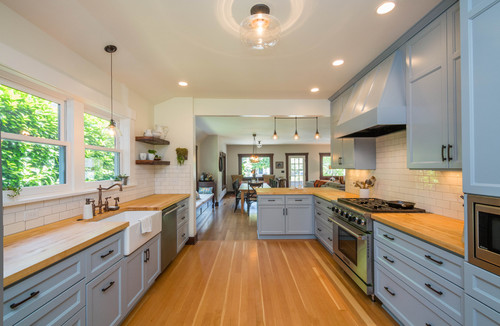 Blue shaker kitchen cabinets are versatile enough to work in both traditional and contemporary designs, so it's no surprise that they also look great in a style that's somewhere in-between. Transitional kitchens are known for toeing the line between traditional and contemporary, taking features and influences from both.
Transitional kitchens boast sleek, simple lines, which make the square inset of the doors the perfect foundation for this style. Subway tiles and straight wood floor planks embrace this linear simplicity. The simple glass light fixtures and general lack of decor round out this space's contemporary look.
There are, however, some subtle traditional elements. The wooden floors and countertops add a warmth to the space that is more characteristic of traditional kitchens. The farmhouse sink and vintage bridge faucet also give the kitchen a classic touch.
Modern Industrial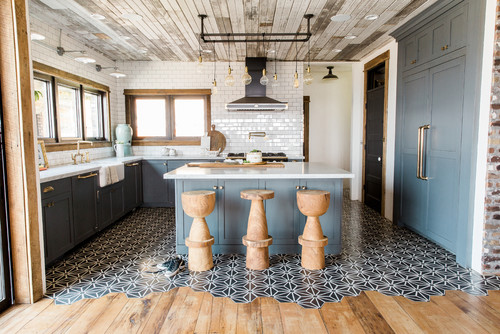 While blue kitchen cabinets are quite versatile, can this soothing shade work in a kitchen style that revolves around wood, brick, metals, and concrete? The above kitchen proves that it absolutely can.
Industrial kitchens evolved when warehouse work spaces were converted into living spaces. Wood beams, exposed bricks and exposed pipes were embraced rather than removed. The industrial materials may not seem very homely, but, with the right decor, they can still create an attractive, comfortable space.
This kitchen embraces weathered, unfinished wood grain for the ceiling and flooring, as well as for the window frames, stools, and other elements. Exposed brick is featured on the outside wall, a smart contrast to the ceramic "brick" subway tile design in the backsplash.
Instead of actual exposed piping, the hanging light fixtures feature black metal pipes as its foundation. Notice that all of the light fixtures are simple, without the usual decorative elements. They purposely retain the authentic look of warehouse lighting.
Don't be afraid to play with industrial design elements when styling your blue shaker cabinets. Also feel free to add one or two decorative elements for a touch of personality, as these spaces do run the risk of being too minimalist.
Sleek & Contemporary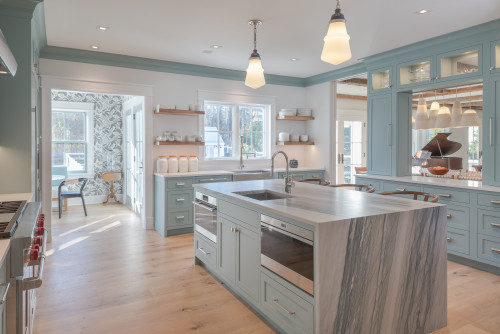 If none of the other design styles really appeal to you, then maybe you simply prefer a sleeker, more streamlined, contemporary look. Some people simply want a kitchen that is rooted firmly in what's current and what's cool. The above kitchen exemplifies this beautifully.
Maybe you'd prefer an engineered stone countertop with a waterfall edge that wraps its way down the side of your island. If you're tech-savvy, you probably want your kitchen to feature the latest faucets and cooking technologies – of course, in sleek stainless steel. Choose the light fixtures you prefer, add a few decorative items, and you've pretty much created the simple, contemporary kitchen you desire.
No matter which kitchen style you choose, blue shaker kitchen cabinets have the versatility to be transformed into the kitchen of your dreams. So don't be afraid; step out of the comfort zone of basic white and grey, and try something a little different.