Remodeling your kitchen is a very personal process. The way you design your kitchen is a reflection of your style preferences and lifestyle overall. Most people find themselves content to choose one of the more standard kitchen styles, from traditional to farmhouse to coastal to contemporary.
But what if none of these categories reflect your vision? Some people simply can't be placed into a box and need the freedom to design in ways that don't confine them to a specific standard. Maybe what you're looking for is an eclectic kitchen.
If you're looking to create a space that's truly, uniquely you, then you'd benefit from embracing an eclectic kitchen style. But what does it entail?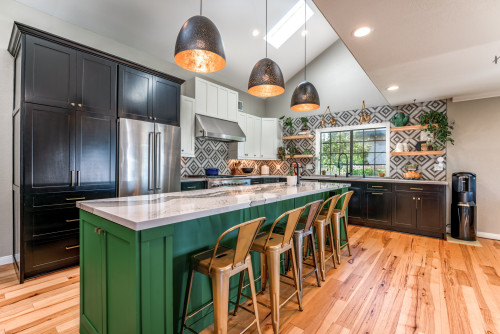 Classic Features of an Eclectic Kitchen
Creativity knows no bounds in an eclectic kitchen. You can take inspiration from a variety of design styles and pair them to create a harmonious, one-of-a-kind living space. Eclectic kitchens mix and match materials, colors, textures and patterns without overdoing it on any one element. Designing your eclectic kitchen gives you the perfect opportunity to experiment with style while imprinting your unique personality into your kitchen design.
For example, maybe you truly enjoy the clean, seamless lines and sleek appliances common in contemporary design, but you also want your space to have the colorful, whimsical feeling reminiscent of modern kitchens from the 1950's. You can take inspiration from both of these seemingly opposite styles and combine them to create your own eclectic kitchen. When it comes to eclectic design, individuality and freedom of expression reign supreme.
Here are some eclectic kitchen design ideas to get you inspired!
Playful Patterns in Philadephia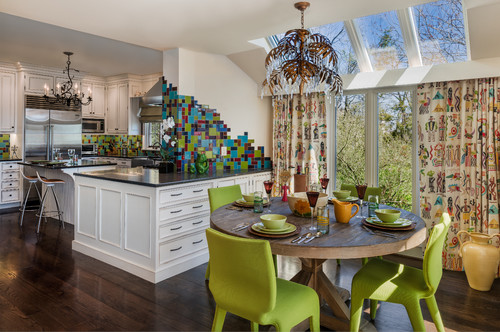 Simple, neutral cabinets and countertops make a great foundation for creating an eclectic kitchen. This white cabinet & black countertop combination fades humbly into the background while the colorful glass tile backsplash takes center stage. If you're shy about colorful cabinetry, the backsplash is the perfect place to add the splashes of color that you desire. Try experimenting with various tile sizes and patterns; it's hard to go wrong when creating a mosaic.
Don't be afraid to include the adjacent dining area in your eclectic design. This designer expertly chose the green from the backsplash to use for the dining chairs and dining ware. The patterned curtains contain some of the remaining colors from the backsplash, helping to unify all of these various elements. And last but not least, the eye-catching chandelier above the dining table gives the entire space an extra burst of personality.
This kitchen design is unique, colorful, and playful, while still maintaining enough restraint to prevent the space from looking hectic. Sticking to a specific color palette with 3-5 complementary hues can help your design maintain a consistent and thoughtful theme.
Modern Eclectic Living in Jacksonville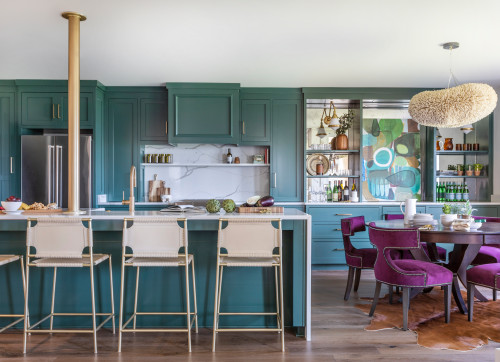 Unconventional cabinet colors are a hallmark of many eclectic kitchen. If you're bored by the standard white, grey, or wood-colored cabinets, feel free to have your cabinets painted in the color(s) that you like. However, there are a few things to keep in mind to keep your space looking balanced. When choosing a bold color for your kitchen cabinets, try to keep the rest of your design fairly subdued.
White quartz countertops and backsplash help to balance out the bold, teal cabinets in this Jacksonville kitchen. Notice that there aren't too many other colors in this kitchen, as it would make the design feel fairly overwhelming. Royal purple dining chairs are an uncommon color pairing with the teal cabinets, but the combination works well in this space. The unique, off-white chandelier helps add a low-key touch of whimsy to the otherwise vivid space.
Rustic Farmhouse Style With A Twist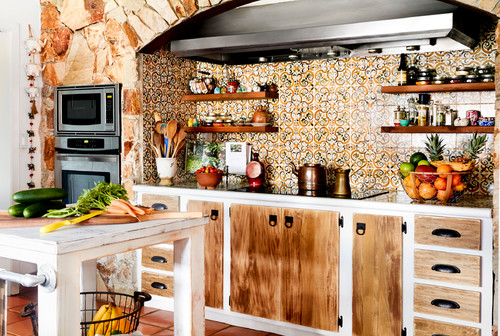 While it may be short on color, this kitchen is full of character. Stone walls and wood grain cabinet doors and drawer fronts capture a rustic feel that contrasts beautifully with the white cabinet fronts. This farmhouse-meets-cottage style exudes a nostalgic, cozy warmth. Stainless steel appliances add a contemporary touch.
This kitchen's brilliance lies in its subtlety. There's something of a motif in the round, circular shape of the arch, cabinet pulls and handles, and the curlicue backsplash tile pattern. Eclectic doesn't simply mean using bold colors and unconventional decor. Small details like repeating certain shapes and patterns throughout the space can give your kitchen a professionally designed eclectic look.
The backsplash tiles are what really tie this eclectic kitchen design together, capturing the brown, white, and black hues in a uniquely gorgeous pattern. Using an interesting tile pattern as the starting point for your entire eclectic kitchen design can help you create a beautiful space while maintaining a uniform theme throughout the space.
Bright Warmth in San Francisco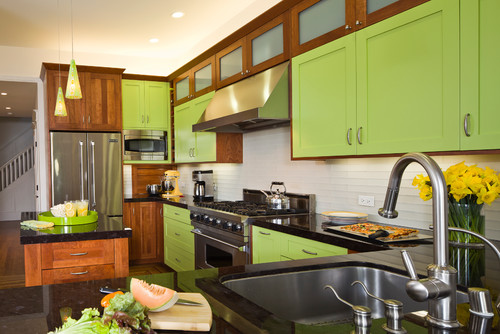 Eclectic kitchens don't have to be complicated to make an impression. This daring kitchen design embraces bright, unconventional color with its lime green cabinet doors and drawers. This one simple decision to paint half of the cabinets in this vibrant hue drastically changes the kitchen's personality. The medium brown cabinets, black countertops, and white backsplash tiles provide a necessary balance.
If you aren't interested in trying to find ways to perfectly match patterns, colors, materials, and textures, this is a great way to achieve an eclectic design. Choose one statement-making color to paint some of your cabinets while keeping the others in a more neutral yet complementary tone, such as white, grey, or natural wood. You can choose to mix and match your cabinets like the kitchen above, or keep it simple with one color for your base cabinets, and another for the top.
New York Luxe Eclectic Kitchen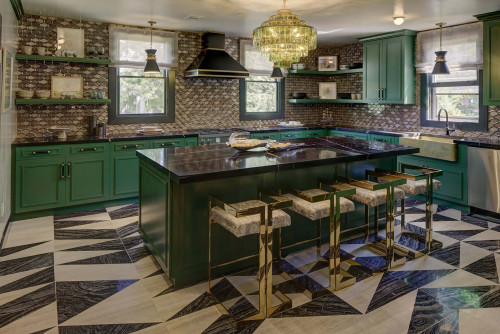 Black, white, and brown provide a neutral contrast to rich emerald green cabinetry and luxe gold accents in this New York kitchen. Patterned floors, backsplash, and stool seats allow the otherwise neutral tones to still maintain a subtle visual interest. This kitchen also strongly embraces sharp angles, from the floor tiles to the bar stools, to the countertop edges.
Playing around with various patterns and repeating motifs can make your eclectic kitchen that much more interesting. Choosing subtle and unassuming colors when mixing patterns and textures helps to keep the design from being too visually chaotic. Finally, topping it all off with complementary metallic accents can truly be the icing on the cake.
Modern Mellow Yellow In Portland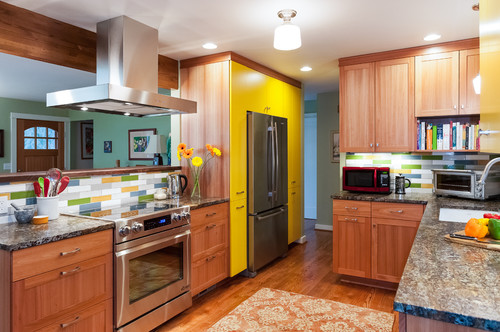 Once again, a fun, bold color forms the foundation for this bright, eclectic kitchen. When choosing a color such as bright yellow in your kitchen, a little goes a really long way. Painting all or most of your cabinets in such a color can turn your eclectic kitchen into an eyesore, so choosing one specific section to contain that color can keep your design from spiraling out of control.
Be specific when choosing the cabinets that you want to paint. In this kitchen, the bright yellow pantry and cabinet doors visually frame the fridge, accentuating this zone. The rest of the colors in the space must blend well with the main color that you choose. The medium brown cabinets complement the warmness of the yellow. In a white kitchen, however, this same yellow may feel a little too bright.
The blue, orange, green, and white subway tiles aren't as vivid as the yellow cabinets, and therefore fade into the background without clashing. Creating a colorful kitchen requires you to choose your colors carefully. The hues in your countertop, cabinets, flooring, backsplash, and decor must all work together to create a harmonious feeling.
Designing Your Eclectic Kitchen
Although eclectic designs aren't bound to a specific set of rules like the other styles, they still require thoughtfulness and consideration. After all, when you're mixing various styles together you run the risk of creating a space that feels overwhelming. Indeed, this is the perfect design style for people want the freedom to express themselves as they see fit.
However, having a set of guidelines can make the difference between a kitchen that looks thoughtfully designed and one that looks haphazardly put together. Here are some tips for creating an eclectic kitchen that's gorgeous instead of gaudy.
Choose no more than 3 design styles to take influence from.
Choose a color palette of 3-5 complementary or contrasting colors before you begin your design and stick to them.
Be careful when picking bold patterns; try not to mix and match too many. Aim for subtle motifs.
Seek balance and harmony. Bold, vibrant colors and patterns should be paired with more subdued elements.
If you don't know where to start, find a backsplash tile, paint color, or decorative element that you absolutely love and base your design around that.
Most of all, have fun! Eclectic kitchens are the perfect way to express yourself, so don't over-complicate the process. Proper planning and deliberate, considerate choices can help you create a beautiful and balanced space.