If you've been remodeling your kitchen, you've probably realized by now that there are many decisions to make when it comes to your kitchen sink. Once you've figured out the size of the sink, the depth of the bowl (or bowls!), and the kitchen sink material, there's still more to consider: Which kitchen sink mounting type will work best for your kitchen?
The way your kitchen sink is installed can make more of a difference than you realize. Each mounting type has its pros and cons. How you cook, how you clean, and how you want your kitchen to look will all factor into your decision. Here's what you need to consider.
Choosing Your Kitchen Sink Mounting Type
Drop-In Sink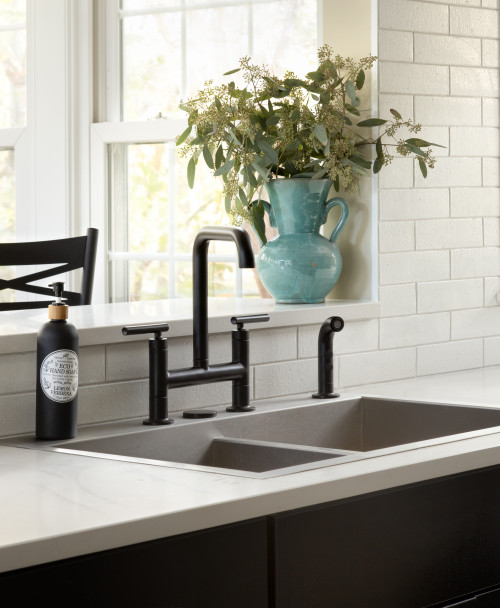 Drop-in sinks, also known as self-rimming or top-mount, are the simplest and most affordable to install. These rimmed sinks are "dropped" into a cut-out in the countertop and then sealed. This type of installation tends to be used on countertops that absorb water, such as laminate.
If you're the DIY type, this is the easiest way to mount your sink without damaging your countertop. This mounting type can also easily be removed if you purchase a new sink.
The downside of drop-in sinks is that it can be frustrating to clean when food particles get caught along the edge. It also doesn't have the sleek, seamless look of other mounting types, which may be a deal-breaker for some people.
Undermount Sink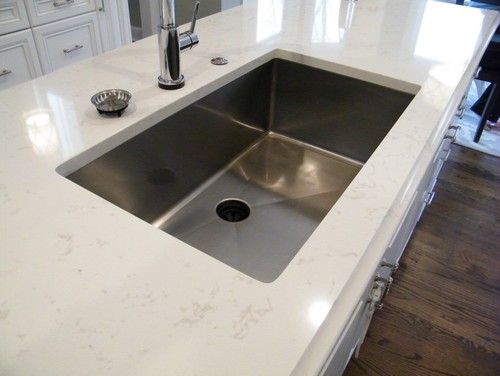 Undermount sinks, also known as recessed sinks, are attached underneath the countertop instead of on top. Unlike drop-in sinks, undermount sinks have to be installed by a professional. The sink cut-out for the countertop must be measured and cut precisely for proper installation. It also requires a non-porous countertop such as granite or engineered stone because the edges will be exposed to water.
Undermount sinks are available in reveal and overhang options. With a reveal, some of the rim of the sink is exposed past the countertop edge. Installation with a reveal is easier as the sink cut-out does not have to be as precise. However, the crease where the sink edge meets the countertop may be difficult to clean.
Installation without a reveal means that there is a slight overhand of the countertop over the sink. You can also opt for a flush mount where the sink and countertop edge are aligned precisely, giving the most seamless look of all.
Undermount sinks are costlier due to the need for professional installation. However, it's usually worth it, as it allows your stone or quartz countertop to shine, uninterrupted by the sink material.
Dual-Mount
If you foresee undergoing another remodel in the future, then you may benefit from having some flexibility in your kitchen sink mounting type. Dual-mount sinks give you the choice of installing either as a drop-in or an undermount, depending on the look you're going for.
You may, for example, decide to use it as a drop-in with your current wood or laminate countertop and then switch to an undermount installation once you change to a stone countertop in the future. If you know that you'll be remodeling again, a dual-mount sink is the most cost-effective option.
Apron-Front Sink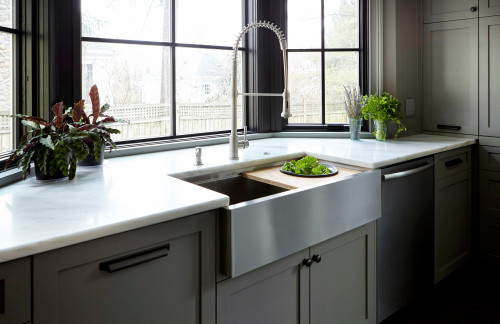 The apron-front or farmhouse-style sink possesses an allure that dates back centuries. These large sinks are known for the classic exposed white porcelain front, but these days, this sink type can be found in a variety of materials and styles.
Apron-front sinks are installed in an under-mounted fashion and therefore requires a sold, non-porous countertop material. They also tend to require larger base cabinets with specific cut-outs, so size must be taken into account when it comes to installing them.
Attempting to install an apron-front sink on your own isn't advised. It is worth paying for a qualified professional who can ensure proper installation.
Integral Sinks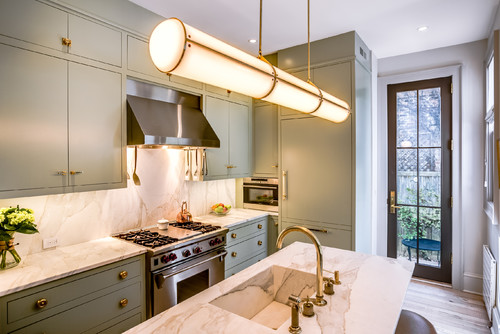 If you're still unsure of which kitchen sink mounting type will work best for your kitchen, then this may be the option for you. An integral, combined sink and countertop is perfect because there's no mounting required at all!
If a smooth and seamless look is what you desire, then integral sinks are your best bet. The sink is fabricated into the countertop, allowing for the most seamless installation possible. This option is available for a variety of materials, from quartz to stainless steel to solid stone.
The lack of seams between the sink and countertop makes this the easiest to clean of all the options. You don't have to worry about food or other kitchen debris getting caught in any tricky creases or corners. The cost of course, will vary depending on the size and material you choose, but it will generally be one of the more expensive options.
Decide With Your Lifestyle In Mind
Whatever kitchen sink mounting type you choose, make sure that it works best with your lifestyle. If you cook frequently, you may find that it's worth the investment to have a seamless sink installation that allows for easy cleaning. However, if you don't use your kitchen too often and aren't too picky about aesthetics, then you may prioritize the more affordable drop-in option. Just be sure to shop around and consider your options before making a decision.