Industrial style kitchens have a very distinct, factory-inspired look. This design style embraces the hardy, functional aesthetic of converted big city warehouse lofts and professional kitchen spaces. If you're looking for a no-nonsense design style which prioritizes function over form, you'll appreciate the simplicity of industrial kitchens.
Common Elements of an Industrial Style Kitchen
Sturdy exposed brick, wood beams, and visible piping and ducts are just some of the quintessential elements that can be found in an industrial style kitchen. Durable, long-lasting materials such as concrete, wood, and steel are almost always featured in some way. While there are plenty of ways to dress up an industrial kitchen, raw and rugged industrial materials take center stage.
Industrial color palettes are fairly neutral and subdued. It's one of the few design styles where darker shades such as black, slate, and charcoal are the rule rather than the exception, though industrial kitchens do not necessarily have to be dark. White, for example, is commonly used as a neutral complement. You can also expect to find the brown and tan hues of wood.
While this all may sound very bland, industrial kitchens lend themselves well to bold pops of color. You can opt for accessories in vibrant, saturated shades of red, orange, green or blue. Even with hardy materials, industrial kitchen spaces can still have plenty of personality.
Industrial style kitchens range from dark and rugged to bright and inviting, depending on how the various elements and colors are used. Here are some very different examples of industrial style kitchens, all of which can serve as inspiration for your own kitchen space.
Classic Industrial Loft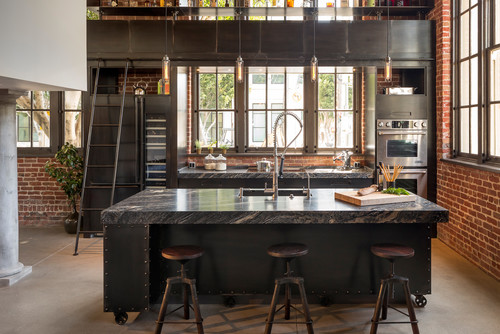 With its concrete floors and exposed brick walls, this San Francisco loft kitchen has all the elements of classic industrial design. Unless you move into a converted warehouse, however, replicating this look may be costly and difficult. But, if you're willing to have concrete flooring poured and are lucky enough to have walls made of brick, this combination of materials is the perfect foundation for creating a truly authentic industrial style kitchen.
Rugged and dark metal dominates this kitchen, from the flat-paneled cabinets to the island and stools. This design, while reminiscent of an industrial workshop, still manages to retain the warmth that people expect from a kitchen.
Indeed, the right design choices can prevent an industrial-style space from looking and feeling too aggressive. In this kitchen, marble countertops, modern stainless steel appliances, warm pendant lights, and ample natural lighting combine to create a more comforting, inviting atmosphere.
Industrial Utility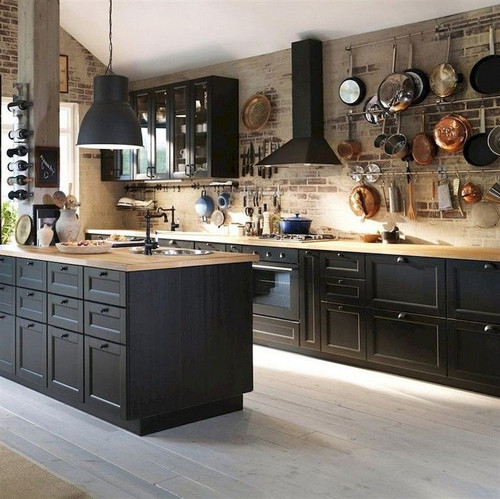 Once again, exposed brick and dark cabinetry are the stars of this industrial style kitchen. However, unlike the previous kitchen, there is more balance between dark and light tones. Varying shades of tan from the flooring, wood countertops, and pale brick wall provide a warming contrast to the darker cabinets.
Because industrial style is supposed to be utilitarian, making use of your exposed brick wall space is appropriate. Combine traditional wall cabinets or shelves with metal rods to hang pots and pans, and magnetic strips to hold your knives. This will give your kitchen a functional, industrial-style look while also being extremely efficient to use.
Subdued Industrial Style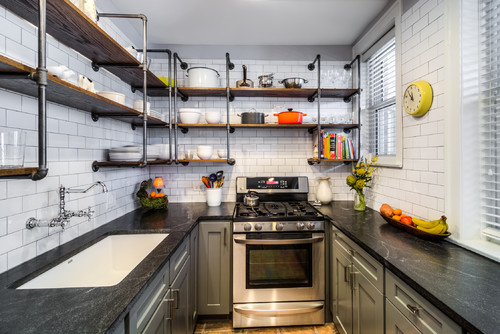 You can also achieve an industrial-inspired kitchen design without fully replicating a warehouse space. Using just a few industrial design elements can give your kitchen just a hint of rugged personality while maintaining a warm, homely feel.
This kitchen ditches upper cabinets in favor of wood shelves, giving the space a functional, practical look. The unfinished metal pipes holding these shelves mimic the exposed piping that can often be found in converted lofts and warehouse spaces.
This kitchen also uses a simple color palette with neutral grey cabinets, black marble-style countertops, and bright white subway tiles for the perfect amount of contrast. A couple of boldly-colored accessories helps to warm the space. Though subtle, this kitchen embraces industrial design elements without being fully industrial.
White Industrial Style Kitchen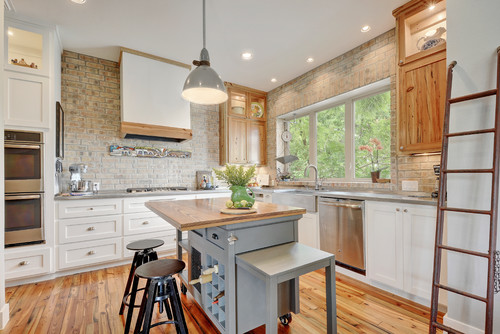 While darker cabinet colors are commonly chosen for industrial kitchens, white cabinets can still play well with industrial design elements. In this above kitchen, white shaker cabinets are paired with warm, open wood grain, striking a beautiful balance between contemporary and rustic. The tan exposed brick brings together both ends of the spectrum, giving this kitchen a more classic industrial look.
Metal makes a prominent appearance in this kitchen without being overwhelming. Stainless steel appliances, sink, faucet, and countertops give this space the functionality of professional kitchens. Unlike some of the previous kitchens, the darker, more rugged metal materials are limited to just the ladder and stools.
It's important to exercise restraint when trying to create an industrial kitchen design that still feels warm and welcoming. Too much metal, concrete, and brick without other softening elements (such as bright white cabinets) can create a space that feels extremely heavy-duty but not very welcoming.
Small Industrial Spaces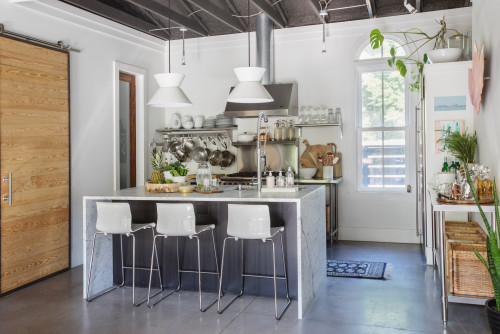 Small kitchens lend themselves well to industrial style. The compact space makes it necessary to be efficient with storage, which is a key characteristic of industrial kitchens. Open shelves, hooks, and magnetic strips on the walls save space while making things easy to access.
Visible ducts, concrete floors and exposed ceiling beams provide the rugged, unadorned elements of industrial style. By contrast, the white walls, countertops, stools and light fixtures help to brighten the space, preventing it from feeling too cramped and small.
If you have a small kitchen, keep in mind that the darker, heavier elements of industrial style kitchens can make the space feel smaller. Choose design elements that can brighten the space, such as bright colors, ample lighting, and mirrored accessories.
Even with its very specific characteristics, industrial kitchen design can be customized to fit your personality and your space. Whether it's a dark converted loft or a bright kitchenette, you can create an industrial kitchen design that's perfect for you and your home.