Efficiency and organization are key components of good laundry room design. Laundry rooms can be small and cramped, but they don't need to be. Since you'll be spending quite a bit of time in this space, it's important for it to be comfortable while catering to your needs. Here are some important factors to consider when designing your laundry room.
Choose appropriate cabinetry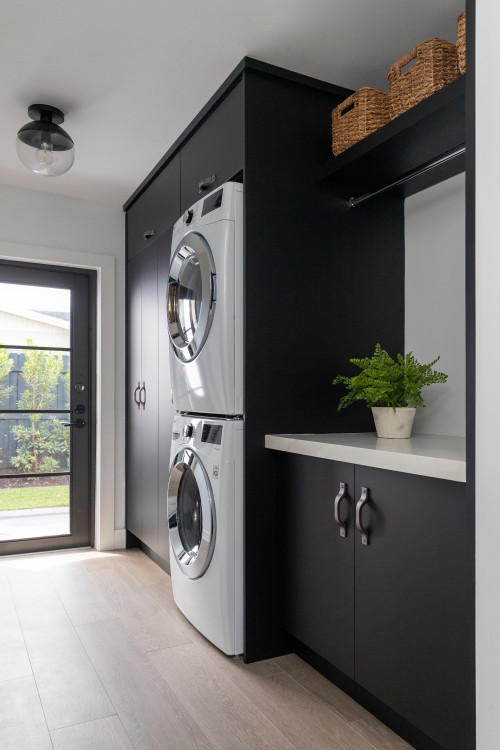 When choosing cabinets for your laundry room, it may seem simple to just choose two or three of the same cabinets. But having a mix of cabinetry can help ensure that there's an appropriate space for every item in your laundry room.
Closed base or wall cabinets can be great for storing detergents and softeners. But what about other larger items? A tall pantry cabinet can be a great storage space for brooms, mops, or even ironing boards. Base cabinets with large drawers can store mid-sized items such as irons or steam cleaners.
When tight on space, substituting cabinets for open shelves may be more desirable. Keep in mind, however, that all of your laundry items will be visible. If the aesthetic of your laundry room is important, then having closed cabinetry to conceal your items is best.
Pull-out attachments for your cabinets work well in laundry rooms because of the convenience. They can be used for pretty much anything that needs to be organized. For example, pull-out cabinets can be used for hampers and laundry baskets to keep them concealed yet still easily accessible. Consider these attachments when choosing your cabinets.
Create a space for hanging things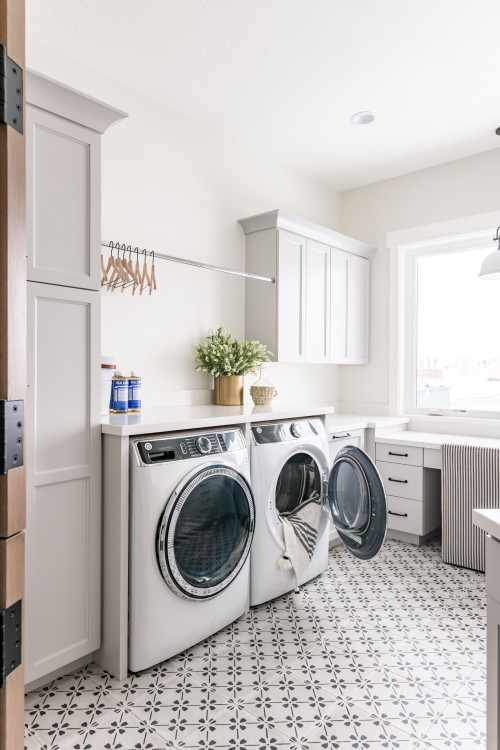 Every efficient laundry room needs a rod for hanging clothes. Depending on the space you're working with, you can install one that hangs directly from the ceiling, between two wall cabinets, or between two walls.
You may also opt for a wall-mounted dry rack that can be pulled out when you need it, and packed away for compact storage. There are also custom pull-out drawers with a rack that remains seamlessly concealed when not in use. All of these options are great space-savers, and are better options than a standard dry rack that sits out on the floor.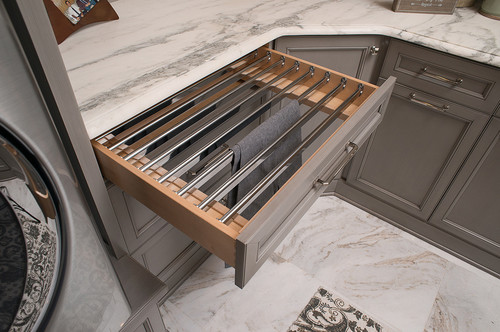 Don't be afraid of wall-mounting items
Mounting your items onto a wall (or even the inside of a cabinet door) is an efficient and tidy option for laundry rooms of all sizes. As mentioned before, dry racks are great for mounting onto a wall, but this can work for a number of other items as well.
If you're struggling to figure out where to put your ironing board, for example, consider mounting this for easy pull-out as well. Wall-mounted bins or baskets can be great for storing small bottles or any other items that you want easily accessible.
Choose the right countertop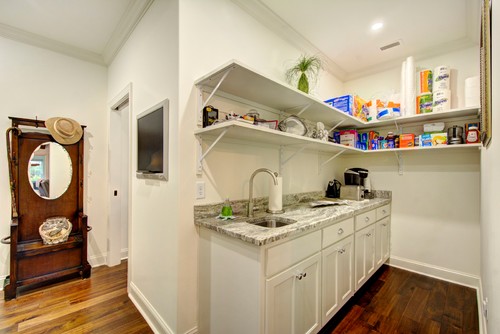 Having a countertop space for folding your clothes can be extremely convenient, keeping you from having to drag your clothes elsewhere to do the task. For washers and dryers that stand side-by-side, placing a countertop right on top is the most sensible placement.
Be aware, however, that not every countertop material can withstand the elements of a laundry room. Choose a durable countertop that can withstand steam, heat, water, and spills from detergents without being ruined. Engineered countertops are a great option for laundry rooms.
Don't neglect the sink
If you're installing a brand new sink, be aware of the size. Choose a compact sink with enough depth to allow you to work. Larger, wider sinks can take up too much valuable space that can be used for other tasks.
Some laundry rooms already contain a stand-alone sink, and if this is the case, you can choose to build cabinetry and a countertop around it, if possible. For lack of space or money, wrapping the sink with a sink skirt can conceal the exposed plumbing while also providing a bit of storage space.
Small organizing essentials can make a huge difference
Installing cabinets and countertops in your laundry room can rack up quite a cost. Budget friendly options such as canisters and baskets can still allow you to keep your laundry room organized without breaking the bank. These can be placed on shelves or mounted to a wall for your convenience. Pegboards and hooks can also be installed onto walls for hanging smaller items.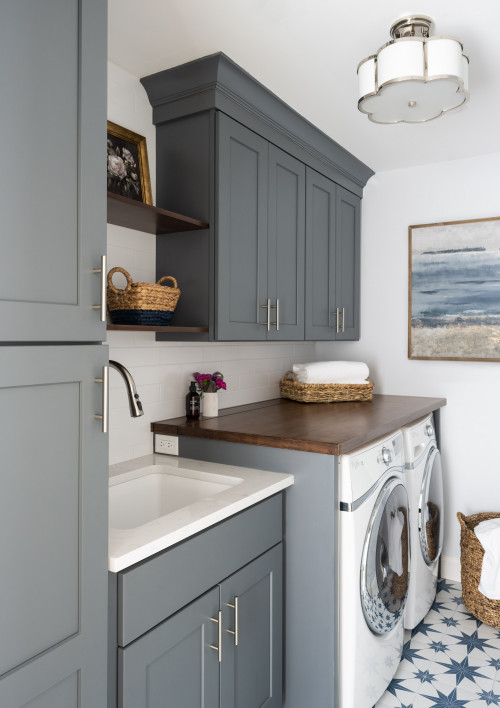 Love the look of this laundry room? Try our Lait Grey Shaker kitchen cabinets for your
laundry room design.
Extra laundry room design tips
Here are some additional design tips for creating an efficient and enjoyable laundry room:
Make use of every inch of space that you can. Floor-to-ceiling shelving units or tall cabinets can make efficient use of space.
Know the specifications of your washer and dryer units before designing. What size are they? How are they ventilated? Are they front-loaded or top-loaded? This is particularly important to consider if you plan on building countertops or cabinetry around these appliances.
Consider raising your washer and dryer off of the floor to accommodate any physical limitations. Bending over to use your appliances can be hard the back. Higher appliances can also help discourage smaller children from playing with them.
Have a pet? Installing a pet-washing tub in your laundry room may be preferable to doing the task in your bathtub. Extra cabinet space can also be used to store pet items that don't have a place elsewhere in the home.
Design with your home in mind. Try to match the rest of your home's style when creating your laundry room design. Match the materials and colors from your kitchen and bath for aesthetic continuity throughout the home.