Long gone are the days when "smart" kitchens were simply a sci-fi dream. Today's kitchens are smarter, more efficient, and more convenient than ever before. The newest and coolest appliances on the market all make use of the latest technologies such as AI assistance, smart sensors and WiFi connectivity. These technologies are transforming the way that kitchens work, making kitchen life a whole lot easier. Like most techie toys, many of these appliances can be hard on the wallet. If you're tech a lover and willing to splurge, however, you'll love these smart kitchen appliances.
LG Electronics InstaView Technology
With LG's InstaView Technology, you can see what's going on inside of your appliances by simply knocking on the glass screen. However, this is only the tip of the iceberg when it comes to what these appliances can do. The LG InstaView range is a multi-tasker with multiple cooking modes: temperature-controlled sous vide for vacuum-sealed cooking, instant convection bake technology that doesn't require preheating, and an air fryer option that gives you crispy food with less oil. The accompanying app can connect to your AI assistant, allowing you to control your range remotely.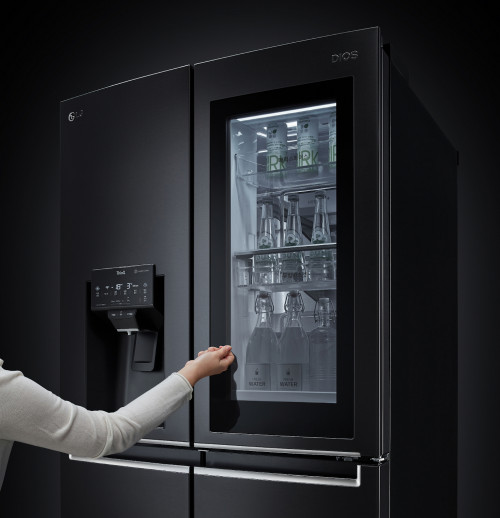 Knock twice to illuminate the special compartment on your LG InstaView Door-in-Door refrigerator. This part of the fridge is meant to hold the foods and beverages you consume most often, and you can browse what's inside without having to open the door. Arms full of groceries? Voice control technology allows you to open the fridge doors, or check the status of your ice, among other features. The beverage dispenser also boasts UV light technology to help maintain hygiene.
Instant Pot Smart WiFi
When this appliance first hit the market, it was an instant hit. The famous 8-in-1 technology revolutionized kitchens by combining multiple small appliances into one neat package, saving a whole lot of space. The efficiency and versatility of this appliance was already hard to beat, but the WiFi function takes it to an entirely new level. The smart, WiFi connected version of this kitchen favorite allows you to adjust the cooking schedule or monitor the progress of your food right from your phone.
Instant Ice Cream With ColdSnap by Sigma Phase
Sigma Phase is presenting the masses with a brand-new take on the single prepackaged pod idea popularized by Keurig. The ColdSnap is not your grandma's ice cream maker. This cool appliance serves up frozen treats like soft serve ice cream, margaritas, and smoothies, all dispensed from a single-serve pod. Environmentalists need not fear because these recyclable pods are made of aluminum instead of plastic. This machine also boasts incredible speed – you can expect your frozen treat to be done in under two minutes. As a trade-off to its quickness, the machine is quite heavy, weighing in at a hefty fifty pounds. It's also still in its prototype phase, so you'll have to wait a while before it's available for purchase.
Make Your Coffee From Your Phone With Bosch
This next appliance admittedly costs a pretty penny, but if you're a coffee fanatic, it may be worth the price. The Bosch 800 Series built-in coffee machine utilizes AromaPro technology, which controls both pressure and temperature, keeping them constant. This allows the machine to make your perfect cup of coffee, exactly the way you like it, every time. You can enter your settings using the touch-screen display or program it from bed using the Bosch phone app.
Pros & Cons of Purchasing Smart Kitchen Appliances
Let's address the elephant in the room: the prices. While these appliances are all quite sophisticated and impressive, some of them can set you back a pretty penny. Here are the price points for the featured appliances:
LG InstaView Range: $1,099
LG InstaView Door-In-Door Refrigerator: $1,499-$7,999
Instant Pot Smart Wifi: $150
ColdSnap by Sigma Phase: Expected to be $500-$1,000

ColdSnap Pods: $2.50-$3.00

Bosch 800 Series Coffee Machine: $3,300
Whether or not you can justify paying thousands of dollars for a coffee machine is really up to you. If you're already spending a ton of money on coffee daily, this appliance may help you save money in the long run. You may find the ice cream maker to be particularly expensive, but if you have a family full of ice-cream lovers, the cost may be worth it. Depending on your budget and lifestyle, these price points may not even be a "con" at all.
There are also many pros to having smart technology integrated into our kitchen appliances. One of the major benefits is being able to access and control your kitchen appliances remotely. For most people, this can be a massive time-saver. Imagine programming your meal to be ready before you make it home from work. Or imagine shaving several precious minutes off those hectic mornings by having your coffee already made and ready to go.
Appliances that integrate with AI assistants can also make those busy multitasking moments in the kitchen a whole lot easier. The convenience and efficiency of smart kitchen appliances can go a long way towards reducing the pressure of preparing meals and managing day-to-day tasks. There's also the "cool" factor. All of these appliances are impressive in their own right, but they can also make for great conversation at your next dinner party.