You may be familiar with the classic kitchen triangle, but have you heard about the 5-zone kitchen? Kitchens have long been designed around the classic 3 zones: the sink, the refrigerator, and the cooktop. But in today's technologically-dependent age, kitchens (and families) work differently than they used to. Kitchens now need to be designed to accommodate more people and tasks than ever before. Here's how the 5-zone kitchen addresses this.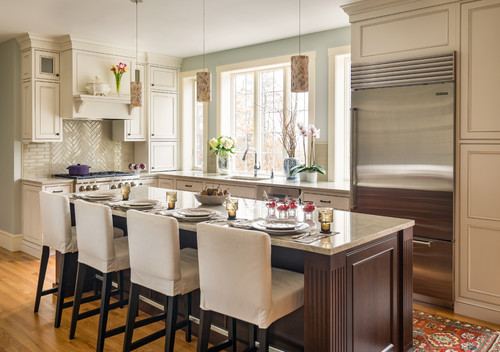 What's Wrong With The 3-Zone Kitchen?
To be clear, the basic tenets of the 3-zone kitchen haven't been done away with. After all, the 3-zone kitchen design was created to ensure efficient and safety, both of which are still very important. Here are the main components of a 3-zone kitchen:
The sink, refrigerator, and cooktop form the three points of the triangle.
Each point should be no less than 4 feet apart.
Each point should be no more than 9 feet apart.
Foot traffic should ideally flow between these points, but not through the triangle.
Tall cabinets and other obstacles such as islands should not be inside of the triangle.
Of course, the 3-zone triangle is a standard and some elements may change depending on the size and layout of your kitchen. Smaller kitchens understandably have a harder time fitting precisely into the 3-zone style. However, the basic idea of the triangle should still apply. Major tasks are performed within these zones and movement between them should be free of obstacles.
Adding more zones to the kitchen should not change this basic concept, as it may pose a safety hazard. For example, an additional zone should not be placed in a location that encourages people to move through or linger around spaces where active cooking is happening. Remember, safety first!
Elements of The 5-Zone Kitchen
Homes of the past were designed in a closed manner, with each room separated. However, more and more homeowners are desiring a more open format, with a kitchen that blends seamlessly into the adjoining dining or living rooms.
Open formats allow families to connect and socialize more, so it's no wonder that they're popular. But more socializing means more movement in and out of the kitchen, which can be disruptive to someone trying to cook. The 5-zone kitchen maximizes organization and takes into account the other people who may be coming in and out of the space.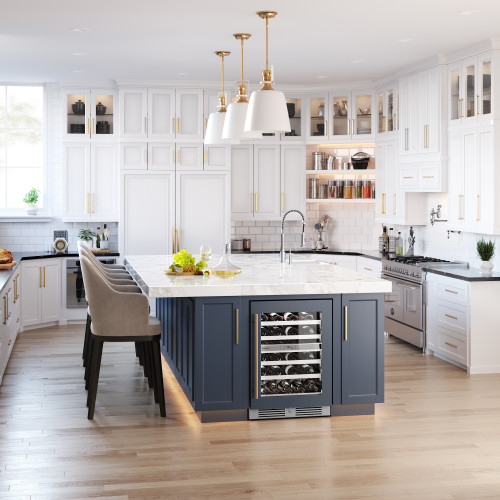 Cooking – Includes a cooktop, oven, and space for using small appliances, such as a slow cooker or stand mixer.
Cleaning – Includes kitchen sink, dishwasher, and pull-out trash receptacle. These three would ideally be located right next to each other, with at least 15″ of countertop space on each side of the sink.
Preparing – Having a designated prep space allows the cook to work without disruption. Around 4 feet of countertop would allow for comfortable workspace. Your prep zone should be located right near the cooking zone.
Consumables – Contains all of the foods that you and others in the household will consume. This area includes your refrigerator and the cabinets around it.  Locating this zone near an entryway away from the prep and cooking zones will keep others from disrupting your cooking while also keeping everyone safe.
Non-Consumables – Storage cabinets for all of the non-food items that you'll need such as utensils, plates, pots, pans, etc. Group these cabinets in a way that makes the most sense for your kitchen space. Ideally, items needed for cooking will be located near the cooking zones while utensils for eating should be closer to the consumables.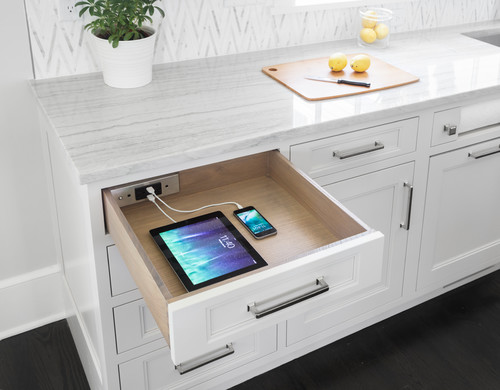 Customizing Zones For Your Family's Needs
While the 5-zone kitchen presents a new spin on an old standard, you shouldn't feel confined to it. In fact, the best kitchen design is the one that is perfectly customized for you and your family's needs. Feel free to add and subtract zones to your liking, as long as you're able to maintain the safety and efficiency of movement between your zones.
For example, technology has become an integral part of all of our daily lives. Having a mini tech hub with a charging station may make sense to you and your lifestyle. If this is something that would appeal to your kids, locating this near an entryway by the fridge and other consumables would help keep them out of your hair as you work.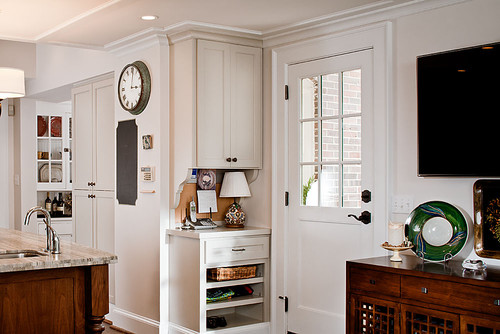 If socializing and entertaining is a big part of your life, you may want to design a wet bar between your kitchen and living or dining room. This area can include a wine rack, beverage fridge, and even an additional sink. A designated eating area on a peninsula or island can also work well for entertaining guests.
If you have pets and love them being around, installing a pet station in your kitchen may be desirable. This can include a feeding area with nearby cabinets for storing pet food. Be sure not to locate the station in a part of your kitchen that will encourage your pets to walk through the cooking or prep zone. Your pet's safety is also important in the kitchen.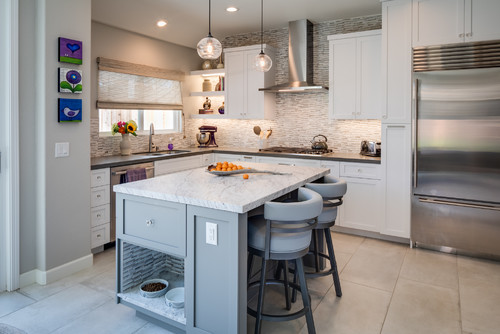 However you design your kitchen, make sure that the cabinets you choose are appropriate for each zone. Your cabinetry will store the items needed for each of these zones, so proper planning is key. Also be sure to consider any favorite small appliances as there should be ample space for storing, accessing and using these items.
If the standard 5-zone kitchen that does not make sense for your lifestyle, then feel free to change it! As long as the original 3 zones are located efficiently and safely, everything else is up to you.