Tropical vacations always leave an impression that lasts long after you've packed up and gone. Beyond the surf and sun, the ambience of the hotels and resorts exude a breezy warmth that feels like a home away from home. What if you could capture that feeling, and have it year-round? If you're thinking about remodeling, this can be the perfect opportunity to take inspiration from your last vacation and try out a tropical kitchen design. These gorgeous tropical kitchens expertly combine design elements found in resorts around the world to bring the tropics right into the home.
Contemporary Tropical Kitchen Design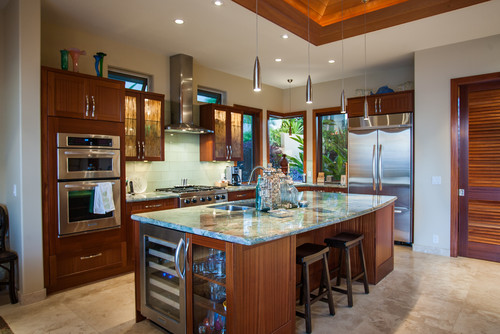 When we talk about the tropical design, we're really talking about nature. Wood, for example, is a common feature in tropical kitchens that give a warm and inviting feeling. When the wood is simply stained instead of painted, the wood grain patterns remain prominent, preserving the natural aesthetic. While exotic hardwoods such as teak, mahogany and ebony tend to be popular, bamboo is a more sustainable option that can achieve the same look.
Warm, medium wood forms the foundation for this tropical kitchen design, from the cabinets to the window frames to the pitched ceiling. Glass, another popular and natural element, is also prominent, with wide windows and glass-front cabinet doors, creating more spaciousness. The blue-green hues of the granite countertops are reminiscent of the ocean, while the beige floor tiles mimic the essence of sand. Stainless steel appliances and light fixtures add a cooling, contrasting, contemporary touch.
Beach Bungalow Beauty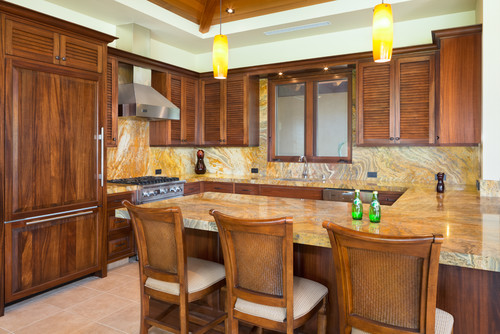 Medium wood cabinets with ample wood grain also feature prominently in this kitchen, with window frames, a pitched ceiling, and bar stools to match. The upper cabinets feature louvered door designs, which are popularly used for doors across the Caribbean to allow for air flow. The granite countertops and backsplash feature multiple colors inspired by sun and sand.
A Mahogany Sunset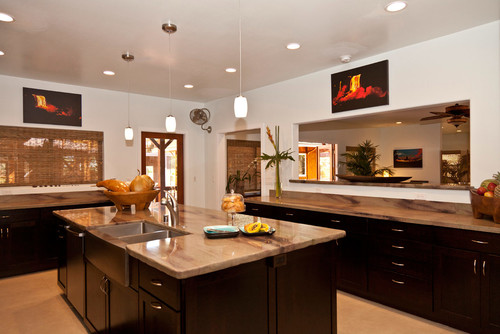 This tropical kitchen opts for darker wood cabinetry rather than the medium woods above. While the wood grain is much less prominent on these cabinets, the kitchen still maintains a tropical feel. Paired with the tan, sandy hues of the countertops and rattan blinds, this kitchen is as warm as any other. The lack of upper cabinets leaves room for large pass-through windows, which are great for entertaining and ensuring the flow of fresh beach air throughout the space. If you're big on having friends and family over, this may be a feature to consider as an alternative to a fully open floor plan.
Love the look of dark wood for your tropical kitchen?
You'll love our Pepper Shaker kitchen cabinets.
Tropical Accents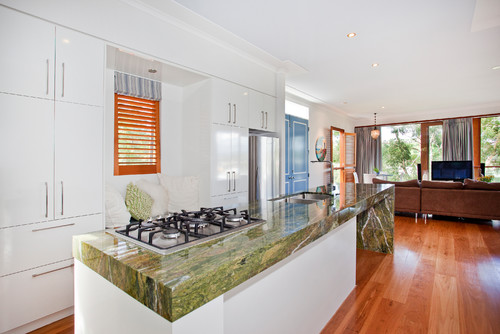 While wood makes its appearance in the flooring and window frames, the designer opted for flat-paneled white cabinets this kitchen. White cabinetry is the perfect alternative for people looking for a brighter tropical space, particularly because of how well they reflect sunlight. They also provide a neutral foundation for other tropical design elements to shine, even if they aren't prominent, such as the wooden blinds.
The most eye-catching aspect of this kitchen is its large granite countertop which expertly bridges the cool, white cabinetry and warm hardwood elements. The vibrant shades of green with hints of white and pink mimic the plush foliage found on tropical islands. This is a great design alternative for those who find the wood-heavy tropical kitchen designs to be a bit overbearing.
Bright White & Breezy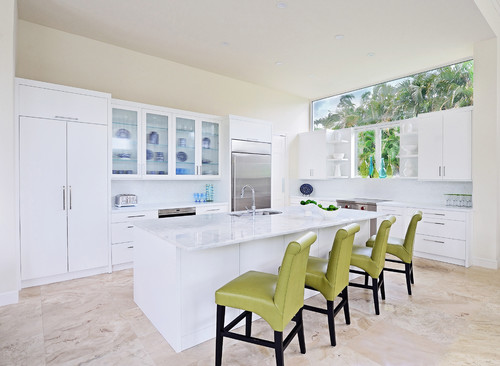 This kitchen goes the all-white route, which is more popular in coastal designs, but can also be appropriate for a tropical kitchen, even if the tropical elements aren't as obvious. This above kitchen achieves a tropical feel with its airy, pitched ceilings and large window above the cabinets. In addition to creating an impressive view of the gorgeous palm trees outside, it also allows for ample sunlight, a necessary element for any tropical kitchen space.
The off-white walls and beige tiles contrast with the bright white of the cabinets and countertop, keeping that quintessential sandy feel. Green bar stools provide a splash of color without veering away from the nature-inspired theme.
Of course, this more subtle design works because you're able to see palm trees through the window. Without palm trees outside, it may not be as obvious that you're going for "tropical" design. While this may be great for a vacation rental property, a regular suburban home may need to incorporate additional tropical elements to really capture the design theme.