Engineered wood flooring is a long-lasting alternative to solid wood flooring. While many people believe that nothing can truly come close to the real thing, advancements in engineering technology over the years prove otherwise. You can absolutely have both the look and durability of solid wood without paying solid wood prices. But what are the downsides? Here are some of the pros and cons of engineered wood flooring.
What is Engineered Wood Flooring?
Engineered wood flooring is made up of multiple layers. The top layer is made of solid wood, which allows you to have the beautiful look of hardwood flooring. Also known as the "wear" layer, this layer will come into direct contact with our feet and furniture and will be most vulnerable to wear and tear. Wear layers can range anywhere from 2 to 6 millimeters in thickness. Manufacturers of premium products will offer engineered flooring with thicker wear layers.
The core layer can be made up of a variety of materials but is usually created with layers of plywood. The supporting layer provides stability and support for your flooring planks. Altogether, this engineered product gives you the look and feel of classic hardwood flooring but its design allows for many benefits that solid flooring does not.
The Pros of Engineered Wood Flooring
Cost: When choosing an engineered wood flooring product over hardwood, you do not have to compromise on aesthetics. Because engineered wood flooring uses solid wood for the top layer, you get the exact same look as with solid floors. However, because the flooring is made up of other, cheaper materials, you pay less than you would for solid hardwood flooring.
Durability: The layered construction means that it's less likely to warp than hardwood under similar conditions. Though it still should not be exposed to constant moisture, engineered wood flooring can handle moisture, humidity and shifts in temperature better than hardwood floors can.
Installation: Installation of engineered wood flooring is simple. These wooden planks are made with a tongue-and-groove construction that allow them to seamlessly fit together. Laying down engineered wood flooring can be a simple weekend project for a motivated, DIY-loving homeowner.
Engineered wood flooring can also be laid on a sub-floor without the need for nails. Hardwood floors usually need to be nailed down and may not be suitable for certain types of sub-flooring.
Easy to Maintain: Engineered wood flooring is easy to maintain. Simply sweep, vacuum, and mop regularly. Avoid harsh cleaning detergents or rough scouring pads to maintain the integrity of the flooring.
Design Variety: Engineered wood flooring is available in a wide variety of wood species, including exotic woods that may be more difficult to get as hardwood, such as African mahogany. Engineered wood can also be found in wide planks. Hardwood planks are no longer available in widths greater than 5″ because it's unsustainable to harvest trees in the manner necessary to produce them. Engineered wood planks, however, can be found in a variety of widths.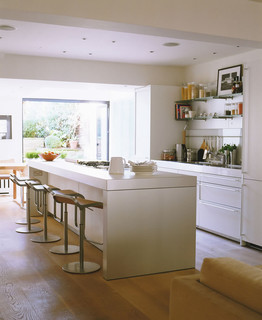 The Cons of Engineered Wood Flooring
Cost: While basic engineered wood flooring styles are often cheaper than hardwood flooring, premium upgrades like a thicker wear layer, artistic elements, or increased durability can cause the cost to rival that of hardwood. Your design options may be limited by your budget.
Varying Quality: The quality of your engineered wood product may vary depending on the manufacturer. Some floors are made to last while others are less durably made and may not last as long. Be sure to do your research if you're looking for a product that will last for years to come.
Offgassing: Engineered wood flooring is often created using a number of resins and adhesives. Some of these resins and adhesives can give off gasses that are possibly harmful to you, your family and your pets. If you're unsure of whether or not toxic resins or adhesives are used, contact the product's manufacturer.
Not Good For Refinishing: If you foresee wanting to refinish your wood floor in the future, you'll need to be careful. The solid wood top layer cannot withstand as much sanding and refinishing as hardwood can. For flooring that can be easily sanded and refinished, opt for engineered wood with the thickest top layer you can find, or simply choose hardwood instead.